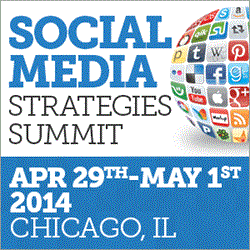 In social media, people - not brands - are the channel.
Chicago, IL (PRWEB) January 30, 2014
The Social Media Strategies Summit returns to Chicago for a third consecutive year, April 29 - May 1, 2014. Recent additions to the speaker line-up include: WOMMA President Susan Fanning, Capital One's Vice President, Digital Social Media, Kip Wetzel; and IBM's Susan Emerick.
Susan Emerick, Manager of Enterprise Social Strategy & Programs at IBM and author of The Most Powerful Brand on Earth: How to Transform Teams, Empower Employees, Integrate Partners and Mobilize Customers to Beat the Competition in Digital and Social Media will be presenting on "Supercharge Your Brand: How Companywide Empowerment Drives Social Media Advocacy," on May 1st.
Susan recently commented that, "In social media, people - not brands - are the channel." She currently leads Enterprise Social Strategy for IBM and through her pioneering work she's found that traffic generated by IBM internal experts in social media converted seven times more frequently than traffic generated by other IBM sources.
Kip Wetzel, Vice President of Digital Social Media for Capital One will be participating in the panel discussion on "Better Customer Service through Collaboration: The Social Customer Service Dream Team," on May 1st. Kip is responsible for the cross-enterprise alignment, standardization, optimization, and strategic growth of Capital One's social presence. Kip focuses on collaborating with key Capital One business functions, defining social strategies that differentiate Capital One, and delivering measurable customer and business value through social media. Prior to Capital One Kip drove Comcast's social media monitoring and engagement strategy with the @ComcastCares team.
Susan Fanning, President of the Word of Mouth Marketing Association will be delivering the closing keynote WOMM in 2014: The Future of Word of Mouth Marketing," on May 1st. The tools and techniques have changed, but according to a recent Neilson study, the consumer conversation holds more power than ever before. In this session, Susan will explore the new research, new technology, new strategies to make your brand or product the most talked about in its category.
To view the full speaker line-up and session information here.
The three-day event features 9 pre-summit workshops and over 30 learning sessions and case studies. SMSS provides attendees with the opportunity to meet and network with valuable business contacts, and learn what leading brands are doing within the social media space. SMSS Chicago features case studies that will give attendees insights into how to align social media marketing efforts with their company's overall business and corporate strategies. The agenda includes dedicated sessions for all types of marketers and social strategists including Business-to-Business, Business-to-Consumer, Small-to-Medium Business and Non-Profit. Attendees can learn more about the various sessions by viewing the agenda here.
To assure attendees get the full benefit of an intimate summit, we only offer a limited number of seats. Take advantage of our early bird registration deals to secure your seat. Group discounts are also available through Friday, January 31st.
View the agenda and register for SMSS Chicago on our website:
http://www.socialmediastrategiessummit.com/chicago-2014/
About GSMI:
GSMI is a leader in the industry of executive education, creating conferences, summits, workshops and training sessions that combine rich learning environments with the opportunity to network with today's most relevant thought leaders, speakers and practitioners. GSMI's annual events have reached 80% of the Fortune 500 companies, in over 30 countries, covering topics that today's leaders find most challenging and inspiring. For more information about Global Strategic Management Institute's upcoming educational events for professionals, please visit: http://www.gsmiweb.com