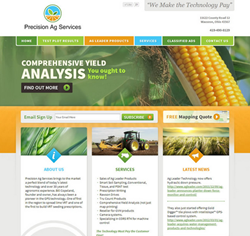 Artonic designed a beautiful website that is both attractive and easy to use.
(PRWEB) February 06, 2014
Tecumseh, Michigan-based Web design and marketing firm Artonic received the 2013 Interactive Media Award for Outstanding Achievement.
The Interactive Media Awards recognize companies dedicated to the highest possible standards of excellence in Web design and development. Developed by the Interactive Media Council, Inc, the IMA was created by a group of leading web designers, developers, programmers, advertisers, and other web-related professions to elevate the standards of excellence on the Internet.
Artonic won the IMA in Outstanding Achievement for their creative development of Precision Ag Services's website. Using organic colors and a user-friendly layout, Artonic designed a beautiful website that is both attractive and easy to use. The golden hues give the homepage a lively feel and direct visitors to the three callouts that showcase important information about Precision Ag Services. Other outstanding details Artonic included in this design include unique banners on each subpage, clean and easy to read footers, and several calls to action. Artonic's design assisted in the establishment of Precision Ag Services's brand and presents the company in a professional, modern, and attractive way to their visitors.
Local entrepreneur Matt Harper founded Artonic in 2005. Since that time, Artonic has grown into a full-service Internet marketing and Web design company, employing graphic designers, Internet marketers, account executives, and web developers. Artonic is the largest Web design company in Lenawee County, Michigan.