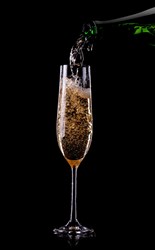 This is our favorite event of the year!
Durham, NC (PRWEB) January 31, 2014
The King's Daughters Inn, which hosts many events during the year, has brought back their Annual Sparkling Wine Tasting this Valentine's Day. The reservation only event has two different options for joining, one will feature 5 different sparking wines selected and paired specifically with the canapés that will be served. The second option is to come in and enjoy a bottle of Moet et Chandon Imperial Rose while eating chocolate covered strawberries.
"This is our favorite event of the year!" says Deanna Crossman, proprietor of The King's Daughters Inn. "We sit with our distributor and pick out the wines very specifically and meticulously arrange the details to make this a romantic and fun event."
The Annual Sparkling Wine Tasting will take place on Valentine's Day, February 14th from 5:30-7:30pm in the beautiful dining room at the inn. Prices are $25 per person or $45 per couple and the champagne will be at a discounted rate of $50 a bottle. Call them at 919-354-7000 to make reservations today.
About The King's Daughters Inn
The King's Daughters Inn is a 17-room luxury boutique bed and breakfast located in the heart of Trinity Park in downtown Durham. It blends the charm of a historic bed & breakfast with all the modern amenities of a luxury hotel. The Inn offers afternoon tea with homemade scones and muffins, as well as turndown service with port and chocolate truffles. A hot breakfast is served every morning including homemade granola, made-to-order eggs, waffles, grits, and much more. Complimentary wireless internet, in room iPads, large 42" HDTVs.The King's Daughters Inn has gained a local and national following of supporters and patrons.
To follow our annual events, follow The King's Daughters Inn on Facebook or sign up for our mailing list.