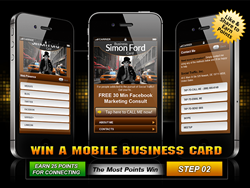 You won't find another solution offering as much ROI "bang" for your "buck" as this.
(PRWEB) January 31, 2014
Simon. U Ford, Founder of Social Traffic, Inc. says, "You won't find another solution offering as much ROI 'bang' for your 'buck' as this. This top of funnel sequence is just the beginning. This Mobile Business Card will become the glue that holds professional networking sales funnels together".
"Some features of this new Mobile Business Card include push notices that show up in your contacts Facebook red alerts list, one click signups, personalised push notification messages to individual contacts, group messages to all contacts, prescheduled notifications by the hour, day or week and are perfect for people without effective email writing skills," says Simon.
You can learn how it works here.
Social Traffic, Inc. is a Social Marketing Agency founded in 2007 offering small businesses help in establishing proven, social infused reputation marketing systems for dramatic and sustainable growth. Founder Simon U. Ford has authored multiple social marketing related books, including "Social Traffic –– Marketing in our New Mediascape", quoted by some readers at the time of its launch 6 years ago as the best book on social marketing ever written.
In 2007, Simon was highlighted for dominating a Google product launch in search results, "using social signals Simon outranked Google's own pages, holding positions #1 and #2 (for 9 months) in YouTube search results for Google's own product (Google Friend Connect)". Seven Google developer videos ranked behind Simon's in positions #3 through #10 – a rare accomplishment.
You can learn more about Social Traffic Inc here.