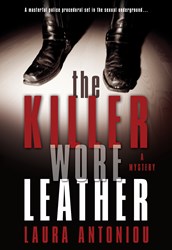 A murder mystery with a fresh, funny take on the fetish underground. — James Lear, author of The Back Passage
(PRWEB) January 30, 2014
Laura Antoniou's The Killer Wore Leather: A Mystery was chosen by the American Library Association's Over the Rainbow Books as a must-read LGBT title of 2014. The Killer Wore Leather is the only mystery to make the list, though it includes genres as diverse as art, fiction, graphic narrative, and poetry.
From the Gay, Lesbian, Bisexual, and Transgender Round Table's own statement about their curated collection of reads:
"The committee's mission is to create a bibliography of books that exhibit commendable literary quality and significant authentic GLBT content."
About The Killer Wore Leather: A Mystery (also available in audio)
by Laura Antoniou
In Manhattan's Grand Sterling Hotel, home of the annual Mr. and Ms. Global Leather contest, last year's hunky but haughty winner lies dead on the floor of his suite, mysteriously wearing only a pair of frilly, bright yellow panties. Cormac "Mack" Steel made a lot of enemies during his year wearing the studded leather sash, not the least being his co-winner Mistress Ravenfyre. But she is not alone—there are over three thousand attendees from all over the world at this year's event, some of whom had very personal issues with the fallen leather world royalty.
Enter Detective Rebecca Feldblum, who must navigate a world of doms and subs, masters and mistresses, pups and trainers, leather, latex and lingerie, to discover who murdered the late Mack Steel—and hopefully do it before the weekend is over and everyone goes home.
Hailed as "fifty shades of funny," The Killer Wore Leather is a murder mystery only Laura Antoniou could write. In addition to the million-selling Marketplace series of erotic novels, Laura's work has been translated into Spanish, German, Hebrew, Japanese and Korean. She resides in New York City.