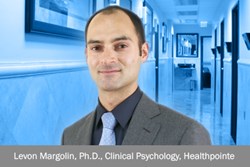 La Mirada, California (PRWEB) January 31, 2014
As a licensed psychologist who specializes in clinical psychology, Dr. Levon Margolin focuses on integrating Cognitive Behavioral Therapy into existing healthcare services in order to provide innovative compassionate care for all patients. Dr. Margolin is confident in his ability to treat patients as he graduated top of his class with a Ph.D. in Clinical Psychology at Walden University and exhibits a firm passion to assist all patients for the betterment of the community.
Healthpointe has incorporated the novel and celebrated treatment known as Cognitive Behavioral Therapy, or CBT, into their vast catalog of medical modalities, procedures and techniques. This service utilizes behavioral medicine, which unites the physical and mental conditions with psychological treatment. Dr. Margolin will assist patients with any mental illnesses that may aggravate pre-existing symptoms and impact their activities of daily living along with other issues that affect their quality of life.
In regards to CBT, patients will be recommended modifications on how to endure and overcome mental ailments, such as depression and stress, along with possible medications and other specialties that may enhance their treatment. Patients will also be educated in useful techniques to prevent any resurfacing of psychological conditions.
Healthpointe can also handle difficult workers' compensation cases, stress claims, personal injuries and much more!
About Dr. Levon Margolin:
As a licensed psychologist, Dr. Levon Margolin specializes in psychological evaluations, including pre-surgical and personal injury psychological evaluations along with workers' compensation and private patient psychological consultations. Additionally, Dr. Margolin is the lead doctor in Healthpointe's Functional Restoration Program, which promotes the enhancement of a patient's recovery time and return to work. This program uses effective care to diminish chronic pain in patients.
Margolin is currently on the board of directors' executive committee at the National Alliance of Professional Psychological Providers (NAPPP). NAPPP, an association of professional psychologists with over 8,000 members, is dedicated to improve patient health by promoting quality psychological practice within an effective and caring healthcare system.
Margolin's experience includes implementing, managing and providing direct clinical services for multiple behavioral medicine programs. The programs that he has implemented during his tenure at other institutions include the Functional Restoration Program, Fibromyalgia Program and other programs.
Margolin takes great pride and responsibility in his task of leading psychology into further collaboration with the medical community.
About Healthpointe:
Established in 1974 and currently based out of La Mirada, California, Healthpointe is a multidisciplinary healthcare organization offering a full range of medical services in practice locations through Southern California. Healthpointe Urgent Care offers the convenience of 10 locations throughout Southern California providing affordable and quality health care on a walk-in basis to better serve the needs of our patients. In addition to our urgent care services, Healthpointe also provide a full range of other medical services to include orthopedic medicine, occupational medicine, neurosurgery, physical and occupational therapy, headache clinic, and personal injury healthcare. Visit http://www.healthpointemd.net or call (888) 755-4850 to schedule an appointment.