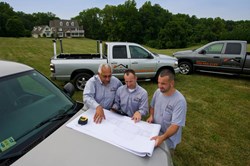 Certified Remodelers are also bound to abide by the NARI Code of Ethics and the NARI Standards of Practice.
Fairfax, VA (PRWEB) January 31, 2014
The NARI certification, bestowed on Rendon Remodeling & Design, goes far beyond the technical aspects of the trade and incorporates key elements such as ethics, business skills, and legal matters associated with the industry. A NARI Certified Remodeler has been blessed as a highly qualified professional by a well-regarded industry leader.
According to the association, "NARI's CR program measures skill and expertise valued not only by other professional remodelers, but by consumers as well. Highly respected by those who have achieved the designation, the CR program identifies professional remodelers who have undergone comprehensive review and testing in areas of business management, ethical conduct, and technical skills. In addition, they must also adhere to NARI's strict Standards of Practice and Code of Ethics. The NARI certification program assess the knowledge and skills of the remodeler in over 20 remodeling task areas including business methods and practices, building codes and construction law, planning and building site layout, and all trades skills required in remodeling your home. Attaining this certification requires the candidate to have been working full time in the remodeling field for at least 5 years and passing a comprehensive assessment exam. Preparation for this exam takes up to 16 weeks of intensive study and self-examination. In addition, Certified Remodelers are bound to abide by the NARI Code of Ethics and the NARI Standards of Practice."
Why is hiring a qualified remodeler so important? Most states, including Virginia, require remodeling contractors to be licensed. Proper insurances are also critical to the qualifications of a contractor, but not all contractors have gone the extra mile to acquire a special certification. A person can check a contractor's work previously performed by asking for examples and before/after photos. This gives a good idea of the quality of work and the outcome once the project was completed. This, however, will not shed light on how it was to do business with this contractor. In a field with a history of ethics and professionalism complaints, it is extremely important for homeowners to have confidence in the company chosen to work on the most precious physical asset - the house.
Having a certification from the only independent association dedicated exclusively to the remodeling industry puts any remodeler in a position that automatically engenders confidence from the homeowner. NARI is a not-for-profit trade association with more than 50 years of industry experience. When this organization certifies a remodeler through their challenging process, consumers can be sure they are selecting not just the most knowledgeable contractor in their area, but also one who respects ethical codes of conduct, demonstrates excellent business process, and an understanding of professionalism not seen in the general field. When it comes to people's homes, knowing that the remodeling contractor chosen to work on it possesses these credentials is a huge benefit.
Both Michael and Joseph Rendon ( two of Rendon Remodeling & Design employees) were recently awarded the acclaimed NARI certification. An honor the owner, Fred Rendon, has also held for many years. After considerable effort, they now possess the additional qualifications that take their already stellar reputation in the industry to the next level.