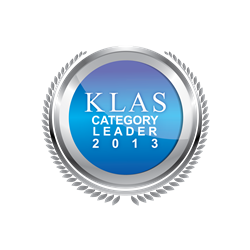 Seattle, WA (PRWEB) January 30, 2014
Mammography Reporting System (MRS), the market leader in Mammography Information Systems for breast tracking and reporting solutions, today announced that healthcare technology research firm KLAS® has recognized MRS as the 2013 Mammography Information System Category Leader in their 2013 Best in KLAS: Software & Services report.
The annual Best in KLAS: Software and Services report rank the top-performing vendors based on direct feedback from healthcare providers. Feedback is compiled from surveys of healthcare executives and administrators, physicians, nurses, and interdisciplinary clinicians regarding their approach and experience using each solution. The rankings honor vendors who best meet their customers' needs when it comes to high-quality products, ongoing service throughout the product's lifecycle, and superior customer experiences.
According to the 2013 report, Mammography Reporting System's newest software version, MRS7 Reporting, was touted by customers as, "Easy and efficient for our mammography team to use,"- Manager1, and "A good product that meets the needs of our breast imaging department."-Director2. Another facility commented that, "MRS has been an exceptional reporting system for us in mammography. It provides excellent documentation and creates a very nice, even workflow. The image tracking and reporting is excellent." – Manager3. *The above comments are selected commentaries that may not represent the whole of provider sentiment related to this product or service. Visit KLASresearch.com for a complete view.
"We are honored to be recognized by KLAS as the Category Leader in the breast imaging reporting segment," said Mark Morris, CEO of MRS. "Our team works continuously and with tremendous dedication to deliver quality software, interfaces, training, and support to all of our customers. This is a great team achievement, and on behalf of our team, I'd like to thank our customers for their comments." Morris noted that in May, 2013, the KLAS Report, Women's Imaging 2013: Measuring the Options, also showed that women's imaging providers grade MRS as the top provider of Mammography Information Systems.
About KLAS
KLAS is a research firm on a global mission to improve healthcare delivery by enabling providers to be heard and counted. Working with thousands of healthcare professionals and clinicians, KLAS gathers data on software, services, medical equipment, and infrastructure systems to deliver timely reports, trends, and statistical overviews. The research directly represents the provider voice and acts as a catalyst for improving vendor performance. Follow KLAS on Twitter at http://www.twitter.com/KLASresearch.
About Mammography Reporting Systems
Mammography Reporting System (MRS) is the most widely used tracking & reporting system in the world for all breast-related procedures, including mammography, MRI, Ultrasound, and nuclear imaging. MRS promotes efficiency and effectiveness in any workflow by offering features such as automated patient lay letters, problem case tracking, and statistical risk models that help optimize work-flows and contribute to quality patient care. MRS's success is based on an unparalleled patient communication package and accurate calculations of statistical reports. With over 25 years in business, MRS is constantly innovating and improving its products in order to better service the needs of customers and their facilities. For more information, visit http://www.mrsys.com or call 800-253-4827.
1 Collected about Mammography Reporting System Inc. version MRS7 Reporting by KLAS in November 2013©
KLAS Enterprises, LLC. All rights reserved. KLASresearch.com
2Collected about Mammography Reporting System Inc. version MRS7 Reporting by KLAS in January 2014©
KLAS Enterprises, LLC. All rights reserved. KLASresearch.com
3Collected about Mammography Reporting System Inc. version MRS7 Reporting by KLAS in October 2013©
KLAS Enterprises, LLC. All rights reserved. KLASresearch.com