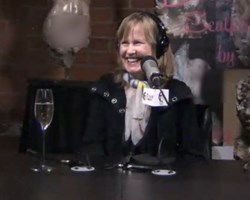 I'm raising children to see the human form as something very natural, beautiful and artistic.
(PRWEB) January 31, 2014
Fine art female photographer Linnea Lenkus appeared as a guest on TradioV's the Artful Undress", a radio in TV show, which aired live from their Hollywood, California studio on Saturday, January 22, 2014. The hour-long show that embraces the human body, features Lenkus' photography and art gallery which have both received attention for the tasteful way in which they represent the human form in the arts.
Lenkus, a long time photographer that specializes in boudoir portraits, jumped at the opportunity to discuss her views on the hot topic with hosts Kira Pandukht and Polina Hryn. "I'm trying to explore my head, connect with people and understand the female form," Lenkus said about her female photography. "I feel like I have the technical ability to express what I am feeling and am able to do it in a sophisticated way."
The show's hosts both felt that Lenkus' art encompassed the very idea of the meaning behind the show and that her photography portrayed exactly how the female body should be represented in the art world. Linnea's boudoir photography was featured throughout the hour long show as well as her maternity, newborn and family fine art portraits.
"I'm seeing the world in a different way," Lenkus said when talking about her fine art female photography, "I'm raising children to see the human form as something very natural, beautiful and artistic." Co host Hryn agreed and sincerely thanked Lenkus for her statement and her art. Hyrn further described Lenkus' photography as having "a sense of the spirit, trust and energy that she captures by being who she is with her clients." Lenkus believes the female body is something to be embraced and to celebrate which is evident when reviewing her body of work.
When it comes to her boudoir photography Lenkus shared that the majority of women that entrust her to photograph them come to preserve the memory of their body before they age. Others are very comfortable with how they look right at that moment regardless of their age and or weight and are eager to have that sense of satisfaction captured. Lenkus said, "I find the beauty in all of my clients and my goal is to capture that for them. There is form and light within each of us." Linnea continues to create stunning art through her portrait photography and curate diverse collective shows at her Los Angeles art gallery. Hosts of the "Artful Undress" plan to have Lenkus back on the show later in the year. The segment with Linnea Lenkus can be streamed under the "Artful Undress" on the TradioV website.
About Linnea Lenkus
Los Angeles photographer, Linnea Lenkus, specializes in Maternity, Children, Family and Celebrity photography as well as Fine Art Boudoir photography. Linnea is a highly experienced, internationally published, professional photographer with worldwide commercial success. In a photography session with Linnea, clients receive the benefit of her artistic eye and her technical mastery honed over decades of photography experience. Linnea Lenkus is the owner of two fine art portrait studios located in Pasadena and Long Beach California and the owner and curator of Los Angeles art gallery, Linus Galleries. See a photography video of Lenkus in action.