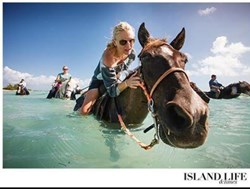 Leave your snow boots at home
Providenciales, Turks and Caicos (PRWEB) January 31, 2014
The Turks and Caicos Islands are just a short flight from Canada, New York and the Southeast. You can have breakfast at home and conch chowder for lunch at the beach. Boasting the third largest coral reef and the "world's best beach", Turks and Caicos is just what the doctor ordered for the Polar Vortex Blues.
Where to Stay:
Gansevoort - This urban chic retreat positively oozes South Beach cool. It's a hot spot amongst pro athletes and the beautiful people. During the week it's a zen oasis complete with beach yoga, come Friday night it's all stilettos and house music.
Parrot Cay - Bruce Willis and Donna Karan built houses on this private island for good reason, the location is divine and the service is over the top. For those lacking a private jet or Hollywood cash, book a garden view room for a surprisingly reasonable price and rub elbows with the truly rich and famous.
The Somerset - This luxury boutique hotel sits on prime real estate along world famous Grace Bay Beach. Each condo is individually owned and decorated, described as "oozing of money, old money" this property comes at price but backs it up with service and views.
Seven Stars - The highest hotel on the island at seven stories this resort boasts an excellent location and luxury rooms but lacks the soul of the smaller properties on the island. For those looking for luxury space at competitive prices, Seven Stars fits the bill.
Where to eat:
Coco Bistro - Fair warning, you'll need to make reservations weeks in advance. It's worth it, this eatery tucked in to a palm grove has earned it's reputation as the best restaurant on the island.
Da Conch Shack - You'll need to rent a car or hire a taxi to get to this landmark open air restaurant. You'll be rewarded with the freshest conch on the island, harvested right in front of you and served every way imaginable.
Anacaona - This iconic restaurant at the luxurious Grace Bay Club is for grown ups only. The wicker lanterns strung from trees, the fire pit and tiki torches give this oceanfront restaurant a warm and inviting feel. The ambiance and gourmet food doesn't come cheap though.
Fish Fry - The Fish Fry is officially one year old this week. Featuring local music, local food and local entertainment this Thursday night gathering next door to the Gansevoort is a don't miss activity. Locals and tourists mix together for a night of cheap lobster, rum punch and junkanoo.
What to do:
Provo Ponies - What could be better than a horseback ride along the world's best beach? A horseback ride IN the turquoise waters. Provo Ponies offers a once in a lifetime chance to enjoy the island in a truly magical way.
Conch Dive and Snorkel Tour - You can't leave Turks and Caicos without a conch shell as a souvenir. Book a half day excursion, your boat staff will not only give you a great tour, they will dive to the bottom of the ocean to "catch" your conch. Ever wonder where conch meat comes from? Watch as they pull it straight from the shell, chop it up and make a fresh conch salad on the back of the boat. Bonus, you take the shell home.
Hidden Beach at Mudjin Harbor - Take the TCI ferry to North Caicos and hire a car for the trip to Middle Caicos. Have lunch at Mudjin Bar and Grill with a view of the most spectacular beach on the island. Just around the corner from the restaurant Hidden Beach is accessed by a stone stairway through a hill and cave opening to paradise.
Rent a Boat or Jet Ski and Explore the Many Cays. There is so much more to Turks and Caicos than Grace Bay Beach. Take a simple jet ski or charter a luxury yacht and explore Iguana Island, snorkel the Emerald Reef or explore Chalk Sound.
Find more ideas on where to go, what to see and do on Island Life and Times.