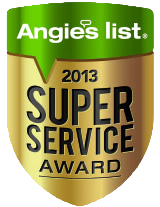 It's great to see that our customers recognize our commitment to quality and reward us with high marks when it comes to our heating and cooling services
Batavia, Illinois (PRWEB) January 30, 2014
Confident Aire Inc. is a full-service HVAC company serving the Batavia, Illinois area since 1992 and has earned the coveted Angie's List Super Service Award. "We offer friendly service that is focused on exceeding expectations. It's great to see that our customers recognize this and reward us with high marks when it comes to our heating and cooling services," said Tom Wangler, Confident Aire's owner and president.
Angie's List is a website where consumers can sign up to read homeowners' reviews of contractors, service companies and health care professionals in their local area. Angie's List captures roughly 40,000 reviews each month from more than 2 million subscribers across the United States and Canada.
Consumers have the opportunity to provide candid reviews of a wide range of service and health care professionals across more than 700 categories including HVAC and plumbing. They have grown to trust reviews on Angie's List because they are reliable. Each review is checked prior to publication to guard against companies that try to report on themselves.
Small business owners value the award because according to Angie's List, only "the top 5% of qualifying businesses per category, in each market, receive the award."
"To receive so many positive reviews by our customers is what makes it so rewarding for us because it shows that our dedication to quality service does not go unnoticed. We know and appreciate the fact that in our business, service calls are usually unplanned by homeowners. It's not a happy occasion when temperatures drop below zero and your furnace goes out in the middle of the night. We consistently respond quickly to get heat restored so the whole family can rest at ease," said Wangler. "For us, that's just one example of a happy ending."
The Angie's List Super Service Award honors excellence among service and health providers who maintain superior service ratings and reviews on Angie's List throughout the past year (November 1st thru October 31st of the next year). While the award is given out across the country, it is not currently available in every city. A city must reach a minimum size and maturity for consideration.
In an interview, founder Angie Hicks describes the typical subscriber as "time constrained, buying things with a high cost of failure. They're in a time crunch and want to make sure they're taking care of their home and health. For us it's all about making sure the consumer has a great transaction with high quality service companies."
Confident Aire is an award winning heating, cooling and plumbing company servicing the surrounding towns of Batavia, Illinois in the far western suburbs of Chicago. They specialize in furnace and air conditioner repairs and installations, plumbing repairs as well as installation of new hot water heaters, humidifiers, air filters and cleaners, sump pumps, thermostats, generators and other equipment designed to enhance the comfort level in your home and save on energy bills. For more information visit their website at http://www.confidentaire.com or email tom(at)confidentaire(dot)com.