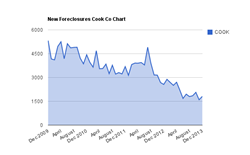 Chicago, IL (PRWEB) January 31, 2014
The typical foreclosure arc could be seen in the numbers for 2013. During the first few months of the year, the numbers were low, but relatively stable. In April there was a surprising leap in activity during which the number of properties sold to investors increased from March to April by 46.83 percent. As the weather heated up, so did the action at the auctions which made July the busiest month of the year in the foreclosure world. In fact, from June to July, the number of properties sold at the auctions increased by more than 50 percent. As the year wore on, it became clear that July was setting the bar for the fall because from August to October the number of properties sold at auction remained consistently high. It wasn't until the last two months of the year that the auction activity slowed again. As a result of the booming auction numbers during the summer and fall months, the year-over-year sales numbers for 2013 were better by 19.19 percent than the numbers for 2012.
The numbers for new foreclosures hitting the marketing during the year were similarly positive. Though the outlook at the beginning of 2013 was dim, with over 4,000 new properties falling into foreclosure each month regionally, the number of new foreclosures slowly began to dwindle as the year continued on. By the time November and December came around, the number of new foreclosures had been cut almost in half. From year-end 2012 to year-end 2013, the number of new foreclosures dropped by 40.48 percent.
As usual, the number of properties sold to investors affects the number of REO properties that occur. REO properties fell 14.57 percent from 2012 to 2013 which is reflective of the tug-o-war between new foreclosures and properties sold at the auction seen this year. Throughout 2013, there was a constant back and forth because there was so much available stock in the Chicago foreclosure market that, despite growing numbers of investors taking an interest in foreclosure properties, they were hard-pressed to keep up with the sheer number of existing properties already on the market. However, the investors won out in the end, causing fewer properties to revert to their lenders than the year before.
These statistics show the improvement seen in the Chicagoland market over the last year and could be an indication of continued growth in the future for the region. If 2014 performs similarly to 2013 than real estate in the region could be moving forward with leaps and bounds, especially as it relates to investor demand for new properties.