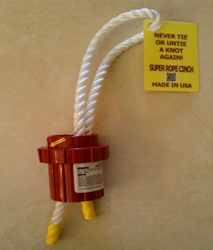 Super Rope Cinch countertop displays drive sales with hands-on demonstration
Naples, Florida (PRWEB) January 30, 2014
In January 2014, Just Right Products began distributing the new Super Rope Cinch countertop displays to all Home Depot stores in Georgia. The new displays have proven to increase sales at other chains by allowing the first hands-on demonstration of the unique rope-securing device.
The Super Rope Cinch, being a revolutionary product, replaces the need to tie and untie knots of ropes, making outdoor activities less hectic and enjoyable. It is worth mentioning that it's quite favorable to the female gender. Whoever had the notion that tying ropes is mainly a "man's work" has been wrong, thanks to the Super Rope Cinch. It is not only easy to use, but it also ensures firm and safe knots are in place. Thanks to this device, a wide range of knots can be replicated with a simple twist. All you have to do is slide the rope into the Super Rope Cinch and twist it. When you need to release the rope, you can do it with just a press of a button. It can hold the rope as tight as any knot can and also withstand high amounts of pressure. The Super Rope Cinch has by far topped all other gadgets that have attempted to replace knot tying in the past. Its simplicity and reliability make its features and its use unique to anyone who uses ropes in their daily activities.
The Super Rope Cinch is not only used in outdoor activity, but also in securing cargo luggage, securing boats and PWC, hence the need for it to be on countertop display in home depot stores. Many people still have no idea what the Super Rope Cinch does and how it works. By adding this device to countertop display in home depot stores, it creates awareness, and as a result, increases sales. This way, people will be allowed to test it and know how it works with the aid of a sales assistant's demonstration skills. It has been proven that the test markets in the home depot stores that have already implemented the countertop display have rapidly increased sales.
Since all groups of people visit home depot stores, by setting the Super Rope Cinch on counter display, a wide audience is attracted from contractors, scouts, campers, rangers and people who love outdoor activities, generally anybody else who uses rope. Therefore, the device attracts people who use rope in their daily life and also anyone curious to learn about it. Without a doubt, sales in the stores will obviously sky rocket at the end of the day. The Super Rope Cinch will not only attract buyers to itself, but also to any other product that may have been put on the counter display at the store. As a result, it will increase the sales of other products. In general, it will increase overall sales of the store making it a win-win situation for both the store and the manufacturer.
Learn more about the Super Rope Cinch at http://www.SuperRopeCinch.com, or at http://www.JustRightProductsLLC.com.