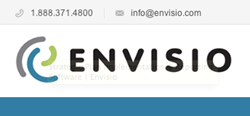 The excitement around Envisio is building.
Vancouver, Canada (PRWEB) January 30, 2014
Envisio has expanded its team with several new employees. New professionals who specialize in product development, business development, human resources, marketing, and customer services/support will help Envisio continue to improve its unique strategy management software and to provide support for clients.
"The excitement around Envisio is building," states Envisio's CEO Mike Bell. "In addition to customers and associations validating our technology, the energy and progress our team is making internally is generating significant momentum for the organization."
Envisio recently closed a financing round, and the company quickly invested these funds in one of its most valuable resources, talented employees. With the help of this new personnel, Envisio will continue to develop innovative new software features like adaptable architecture, cascade planning, aggregate reporting, and integrated alerts. These features are perfect for non-profits and small to medium sized businesses. The software helps companies:

Connect employees' daily activities to deliverables that are part of a strategic plan
Implement, update, manage and track the progress of organization's strategy
Separate goals into milestones, metrics, deadlines, and assignments
Gather data electronically, instead of manually
These new employees will quickly master the details of Envisio's strategic management software, which is used in house to align each employee with organizational goals and to implement strategic plans. Bell continues, "One of the greatest joys around team building at Envisio is that everyone that joins the team gets aligned with the company's culture, goals, and priorities because we use Envisio in house." Using Envisio, every employee is notified when a plan changes or is modified. The software is easy to use and allows employees to work anywhere and anytime.
For details on Envisio's strategic planning software or to request a free demo, visit http://www.envisio.com/.
About Envisio:
Envisio is an innovative software company with a powerful cloud-based platform designed for small to medium sized businesses and non-profits. Envisio's software connects employees to a strategic plan to work toward an organization's vision. Envisio launched in 2006 and has since migrated globally, helping businesses and non-profits worldwide. Envisio users include Science World British Columbia, Open Door Group, the BC Chamber of Commerce, Netball Australia, Big Brothers Big Sisters, and many more.