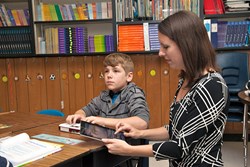 Turning 15 is a big deal for any company but for HIMS I believe it takes on even more meaning than it might for many other companies. We make products that truly change the lives of the people who use them.
Orlando, FL (PRWEB) January 30, 2014
HIMS, a leading manufacturer of products for people who are blind or who have low vision, will kick off a year-long celebration of their 15th anniversary at the ATIA 2014 Conference to be held January 29 – February 1, 2014 in Orlando, Florida. Anniversary activities will include the release of several buzz-worthy new products for those with low vision and blindness, as well as exclusive show specials and price promotions, a VIP preview event, trivia quiz, giveaways and prizes for conference attendees.
While at ATIA, HIMS staff will also present two educational forums:
"Smarter Magnifiers for the Classroom, An Innovative Experiment"
Thursday, January 30, 2014
1:00-2:00 p.m.
"Mainstream Compatible Notetakers: Necessary Tools for Modern Students and Professionals"
Friday, January 31, 2014
10:30-10:50 a.m.
For HIMS, this 15-year anniversary marks another milestone among many achievements as a leading worldwide developer of assistive technology for the blind and visually impaired. For their anniversary in 2014, HIMS is poised to introduce several new products including a groundbreaking new low vision product for students and the introduction of several highly anticipated new features for their very popular Braille Sense U2 line of Braille notetakers.
E-bot, their new low vision product, is designed especially for schools and for the first time, enables low vision students to view magnified text and distance images directly on an iPad or Android tablet, as well as on a PC or Mac. Students can use E-bot to magnify and read textbooks and worksheets, take their own notes during class and clearly view the blackboard or presentation at the front of the classroom. E-bot ADV, a second model, can even perform OCR so students can hear printed text converted to speech. Some of the new features for Braille Sense U2 notetakers will include enhanced Nemeth capabilities and access to PowerPoint presentation files.
Historically, some of the company's other noteworthy accomplishments have included the following:
2006 – SenseView PORTABLE released as the first 4.3" LCD portable video magnifier with multiple magnification levels
2008 – SenseView DUO introduced as the first read, write and distance portable video magnifier
2010 – SenseView LIGHT announced as the first pocket-sized video magnifier with an OLED screen
2012 – Braille Sense U2 built as the first 1 GHz CPU Braille notetaker with built-in compass, receiver and Google Maps GPS, and Braille EDGE 40 designed as the first 40-cell refreshable Braille display with Notepad and SD card storage
2013 – CANDY GRIP launched as the first 5" LCD HD Handheld (with handle) video magnifier, near-distance view and mirror (self) view, and Braille Sense firmware v8.1 makes Braille Sense U2 the first Braille notetakers to feature YouTube, Dropbox and Excel Viewer
In speaking about the company's anniversary this year, HIMS Inc. President, James McCarthy, who is himself legally blind, shared "Turning 15 is a big deal for any company but for HIMS I believe it takes on even more meaning than it might for many other companies. We make products that truly change the lives of the people who use them. Our products make it possible for those with a visual impairment to excel in education and compete on a level playing field with their sighted colleagues in the workforce."
Concerning their new low vision product, HIMS Inc. Education Business Development Manager Dave Wilkinson, who is also visually impaired, says "E-bot is going to quickly become the go-to product for low vision students and their teachers. The cross-functional capabilities of magnification with OCR combined with the potential for curriculum enhancement and common-core support is very exciting."
To learn more about HIMS and their full line of products for those with low vision or who are blind, you can visit their website, http://www.hims-inc.com. Alternatively, if you're in the Orlando area this week, you can stop by the ATIA 2014 Conference to see these new and exciting products for yourself. Visit the ATIA website, http://www.atia.org, for more information regarding the Conference.
Since its founding 15 years ago, HIMS has been devoted to improving opportunities for the visually impaired through the development of technology products for the blind and low vision. HIMS Inc., an Austin, Texas-based company that specializes in assistive technology products is a wholly owned subsidiary of HIMS International Corporation.