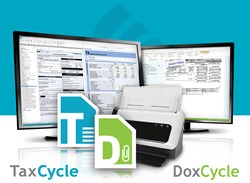 Trilogy Software has experienced 600% growth over last year, with accounting and tax firms across Canada embracing TaxCycle's modern design.
Calgary, Alberta, Canada (PRWEB) January 31, 2014
Trilogy Software Inc. today announced the release of TaxCycle T1 CRA EFILE-certified 2013 tax software for Canadian tax professionals and accounting firms. Together with DoxCycle t-slip and tax document scanning and management software, Trilogy offers a complete end-to-end paperless solution for tax offices.
Trilogy also announced the expansion of its TaxCycle Suite.
"We're delivering on promises made to our users and the professional tax industry," states CEO Cameron Peters. "With the release of our T2 corporate tax return and T4, T4A, T5 and T5018 slips preparation software, we're helping professional tax preparers efficiently serve their owner/operated small business and personal tax clients."
Trilogy introduced several other firsts this year, such as its 100% Accurate T1 Tax Guarantee, "Fair Way to Pay" monthly payment plans, and a highly successful fall training seminar tour.
The firm has experienced 600% growth over last year, with accounting and tax preparation firms across Canada embracing TaxCycle's modern design, innovative features and familiar operation.
To help users adapt quickly to TaxCycle, Trilogy offers extensive training resources as well as carry forward conversion of tax return data from Intuit® ProFile ®
and CCH Cantax ®.
"We're focusing on end-to-end electronic tax preparation workflow with TaxCycle T1 and DoxCycle," continues Cameron. "With innovations like our integrated Client Manager database for file and workflow management, and our EFILE-first approach, it's easier than ever to prepare accurate returns for your clients."
TaxCycle T1, T2, T4/T4A, T5, T5018 and DoxCycle are available as a free trial download from the company's website.
This is Mr. Peters' third tax software company. He co-created Cantax Software in the 1980's (now owned by CCH) and founded GreenPoint Software and the ProFile Professional Tax Application Suite in the 1990's. Intuit acquired GreenPoint in 2000.
Trilogy announced raising $3.3M in private capital in the fall of 2011, which has led to recruiting an experienced tax software development team working out of offices based in Calgary, Alberta.
Website: http://www.taxcycle.com
Cantax is a registered trademark of CCH Canadian Ltd.
ProFile is a registered trademark of Intuit Canada Ltd.
Contact Information
Cameron Peters
Email: cameron(at)taxcycle(dot)com
Twitter: @cdpeters @taxcycle
Toll-Free: 1-888-841-3040
Mobile: 1-403-971-9773
Trilogy Software
908 - 1333 8 Street SW
Calgary, AB T2R1M6
-30-