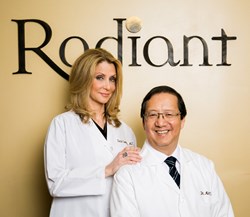 When we used the VelaShape III on our patient volunteer while evaluating the system, she didn't feel any pain at all.
Edmonds, WA (PRWEB) February 05, 2014
Cosmetic surgeon Michael Lau, MD, FACS of Radiant Rejuvenation and Cosmetic Surgery, recently met Dr. Shimon Eckhouse, CEO of Syneron, at the Anti-Aging Medicine European Conference in Paris. Dr. Lau, who is an expert in minimally invasive surgery, is also a physicist engaging in High Intensity Focused Ultrasound (HIFU) research. With great interest in developing an effective, non-invasive body contouring program, Dr. Lau spoke with Dr. Eckhouse and was delighted to learn about the Syneron VelaShape III device for body contouring that was recently approved by the FDA. Dr. Lau was particularly impressed by the underlying science and the clinical efficacy of the VelaShape III device. Upon returning to the U.S., Dr. Lau tested the device and has the unit in place at Radiant Rejuvenation and Cosmetic Surgery as of December 23rd, 2013. Radiant will start offering the VelaShape III treatment to patients interested in body contour improvement in January 2014.
Traditionally, undesirable excessive fat deposits in the body are removed by liposuction surgery to improve body contour. Liposuction is effective, but also is invasive, involving surgery, anesthesia, pain and a recovery period. Different energy modalities have been used for non-invasive body contour reduction, including focused ultrasound, RF (radio frequency), laser, and freezing. The results have been mixed, but the side effects, especially pain during and after treatment, have been problematic.
VelaShape III incorporates bipolar RF (radio frequency) energy, controlled IR (infrared) light, and pulsed vacuum suction to reduce the contour of problematic body areas and improve skin laxity. Clinical studies to support the FDA approval process have shown an average of 2.6 cm decrease in abdominal circumference 10 weeks after one single VelaShape III treatment. There were no adverse events seen in the study, and all patients found the treatment to be tolerable, even with no anesthesia.
Regarding this new device, Dr. Lau said, "VelaShape III gives cosmetic surgeons a great option to fulfil the request of so many patients that want improvements in the contour of certain problematic areas of their bodies, around their abdomen and flank, for example, but are reluctant to have liposuction surgery or have had a negative experience with pain associated with other procedures. When we used the VelaShape III on our patient volunteer while evaluating the system, she didn't feel any pain at all. That was impressive, since most of the other contouring devices are not that comfortable."
Radiant Rejuvenation & Cosmetic Surgery has been in its Edmonds, WA location, a suburb of Seattle, since 2008. Dr. Michael Lau, FACS, FACOG, and Susan Cummins joined forces to create this cosmetic surgery and medical aesthetics clinic.
Dr. Michael Lau, an experienced urogynecologist, pelvic plastic surgeon, and cosmetic surgeon, has been practicing in the Seattle area for over 25 years. One of his areas of expertise is vaginal cosmetic surgery, where he skillfully combines his talents as a gynecologist and cosmetic surgeon. He is one of the few gynecologists in Washington State to be a Fellow of the American College of Surgeons.
Radiant Rejuvenation & Cosmetic Surgery
425.712.7546
Edmonds, WA 98026
info(at)radiantrejuvenation(dot)com