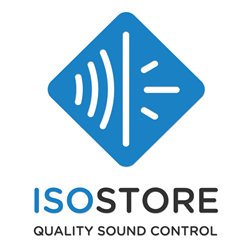 We want to get the word out to all our customers that only the name changes. Our honest advice and devoted customer service is stronger than ever!
Boise, Idaho (PRWEB) January 19, 2014
For years this online sound isolation product reseller and manufacturer, known as Sound Isolation Store, was found online at soundisolationstore.com. In an effort to set their company apart from the competition and to create a catchier name, they have officially changed their domain to simply isostore.com. This ultimate goal has been in the works since 2012 while developing their new site which launched mid-2013. Their new site remains the same, providing a quality selection of sound isolation products, advice, and extensive research articles to help guide their wide range of customers from the average DIY'er to experienced contractors.
They still remain the number one source in North America for Genie brand products manufactured by Pliteq, including the entire line of GenieClips and GenieMat rubber underlayment, as well as Green Glue brand products manufactured by Saint Gobain Performance Plastics. Their line of custom sound isolation doors, known as IsoDoor, continues to be manufactured entirely in-house at their location in Boise, Idaho.