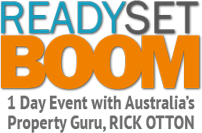 One of the biggest drivers is the investment in infrastructure projects, by both the Queensland and local governments.
(PRWEB) January 30, 2014
Rick Otton, an Australian known for his innovative approach to real estate investing, has announced the addition of Queensland's Sunshine Coast to his 2014 Ready Set Boom seminar program. The seminar is being held in Coolum, on February 22, at no charge to the public.
His decision to include The Sunshine Coast, Mr Otton says, was based on indicators showing that have several years in the doldrums, the regions real estate prices are now on an upward trend.
"There are several reasons for prices on the Sunny Coast to be moving" said Mr Otton. "One of the biggest drivers is the investment in infrastructure projects, by both the Queensland and local governments.
This has stimulated the local economy in two ways. Firstly, it has provided employment for people in the construction and engineering industries and boosted local suppliers to those industries," Mr Otton explained. "But secondly, the improved health facilities, particularly the construction of the Sunshine Coast University Hospital, checks another box for those considering where to buy to live, or invest. Of course, the ongoing employment prospects for those in the medical and allied health fields will receive a real boost as well."
The Sunshine Coast Daily revealed on January 18 that 10,000 of the 54,000 new jobs that were created in Queensland in 2013 were in the Sunshine Coast.
Mr Otton believes that investing in property is easy right now – prices are going up, interest rates are low, and auction clearance rates are higher than at any period in the last few years. But learning strategies that will deliver great returns, regardless of where we are in a boom/bust environment, is what his seminars are about.
"Around twenty years ago I found a way to purchase 76 properties in twelve months, in a falling market, and with no bank finance" said Mr Otton. "I have continued to refine those strategies and in the last 20 years I have been teaching others how to implement them as well – in fact I have trained over 35,000 property investors."
A Mindset Shift
The biggest hurdle that Sunshine Coast people who attend his no-charge Ready Set Boom seminar will face, Mr Otton says, is being able to shift their mindset about how real estate is bought and sold.
"The way I, and my students, have built impressive property portfolios is by taking a big leap – we are creative thinkers who have been able to see that it is no longer necessary to involve the banking system in our property transactions" he explained. "There is no need to save for years and years for a deposit, nor is it necessary to prove to the banks that you can repay the loan – and this is a big hurdle for those who are self-employed."
To secure your seat at Rick Otton's Ready Set Boom one day seminar on The Sunshine Coast, at no cost, or to see dates for other seminars nearer to you, visit http://www.readysetboom.com.au or phone, in Australia, 1300 888 450.
About Rick Otton
For over 23 years property millionaire Rick Otton has built an impressive real estate portfolio using innovative strategies that he has developed – strategies in which transactions are made without the need for traditional bank-type loans. He constantly refines his techniques as he buys and sells properties through his We Buy Houses business which operates in Australia, New Zealand and the UK.
A gifted speaker and educator, Mr Otton conducts regular one-day free seminars across Australia, which build on the the concepts he shares in his 2012 book 'How To Buy A House For A Dollar', voted by Money Magazine and Dymocks Book stores as one of the Top 10 Most Popular Finance Titles for 2013.
He regularly records and publishes iTunes podcasts via his channel Creative Real Estate.
His innovative low-risk, high-reward approach to Australian real estate investing has been featured in a variety of television programs and magazines, including Today Tonight, Hot Property and Australian Property Investor.
To register for one of Mr Otton's free Australian one day seminars visit http://www.readysetboom.com.au or phone, in Australia, 1300 888 450.