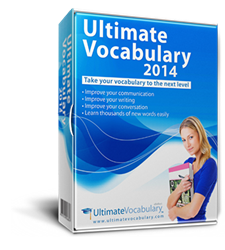 Vocabulary is easily mastered if the right tools are at hand, an idea that is central to the shared convictions of the eReflect team.
New York City, NY (PRWEB) February 02, 2014
Ultimate Vocabulary developer eReflect has just released its latest GRE vocabulary video tutorial on the software's blog. This tutorial is part of a video series initiative by Ultimate Vocabulary™ developers which aims to help students ace their upcoming GRE tests. Through these easy to understand vocabulary videos viewers get to learn the meaning of must-know words such as imply, devise, arbitrary and genealogy. For each new word introduced to the reader, synonyms, antonyms and examples are also given so that the student acquires a deep knowledge of each new word presented. The examples are narrated so the viewer also gets to hear how each new word is correctly pronounced.
The 7-minute video is classified as Level 2 vocabulary for GRE and it aims to help students learn those words most likely to appear in a typical GRE test. The Ultimate Vocabulary GRE videos are part of a wider initiative by eReflect to take a bit of the stress out of GRE study. Knowing how overwhelming learning new vocabulary can be, eReflect seeks to help students study effectively and effortlessly through this series of vocabulary videos, each under ten minutes long. All words and examples are derived from the Ultimate Vocabulary program itself and the words presented in each GRE vocabulary video have been carefully selected according to how frequently they appear in GRE tests. As a result, by watching these GRE videos, students can learn many words that are likely to appear on their GRE test and thus have a better chance of getting a good score.
eReflect believes that vocabulary building shouldn't be a source of stress for GRE students, nor be a time-consuming process. Vocabulary is easily mastered if the right tools are at hand, an idea that is central to the shared convictions of the eReflect team. With persistence and solid, carefully designed material, students can do well in their GRE and other examinations.
For more information on how you can benefit from Ultimate Vocabulary, please visit its official website, http://www.ultimatevocabulary.com.
About Ultimate Vocabulary™
Ultimate Vocabulary provides a proven and powerful platform, built to improve anyone's vocabulary.
The interactive self-improvement system provides more learning tools than any other program on the market, as well as more information on words.
The Ultimate Vocabulary software provides each and every user with a personal computer tutor. Providing a step-by-step guide to learning a powerful vocabulary, Ultimate Vocabulary is the learning tool everyone can benefit from.
Of course, the software is also backed by eReflect's iron-clad money back guarantee.