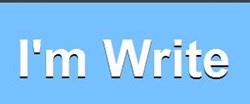 I'm Write has been making impressive inroads to the creative writing community in print media.
Spruce Grove, Alberta (PRWEB) January 30, 2014
I'm Write, a Canadian creative writing freelance company, has experienced much success with its foray into print media and is now expanding their creative writing horizons.
"It's a competitive marketplace," explains Nerissa McNaughton, owner and operator of I'm Write. "There is always a writer, or a team of them, willing to do the same job for cheaper. Creative writing is like contracting in any other business, the only difference is that the writers we have at I'm Write care more about the quality of their work than how quickly they can earn a dollar."
"Where other freelance companies or writers will take on a contract for peanuts and turn it around in 24 hours, the skill and quality of the work takes a back seat to the quantity they must produce in order to survive. Here we focus on quality – not getting the most contracts possible. What good are dozens of creative writing contracts now if we flop on them and produce a shoddy product? Having all the contracts now does not mean we will have them all later too."
I'm Write has been making impressive inroads to the creative writing community in print media. Many of its writers have been featured in local newspapers and magazines, and they aren't stopping there. Nerissa is adamant about pushing forward and landing contracts with a wide variety of print media outlets. "We have had some incredible opportunities in 2013 and formed some fantastic working relationships with the local print media. My hope is that we can expand our print market even more quickly than we did last year."
The company is best known for its work in technical writing, which includes search engine optimization (SEO) for many web based clients all over the world. Although this aspect of the company is fundamental, and a part that they don't plan to give up anytime soon, it is clear that the plans to diversify their offerings are all in an effort to maintain a competitive edge in a saturated creative writing market.
To date I'm Write has always been on-point with the changing world of marketing and the internet. Whether it's getting on Twitter or running a blog, Nerissa sees every marketing outlet as an opportunity to reach potential clients and extol the virtues of her incredible team. "In the last year we've done everything from third-party social media campaigns, to fleshing out entire websites with relevant and useful information. While SEO is still one of our mainstays, we are really seeing incredible growth with our creative writing branch; there is no reason that expansion won't go above and beyond print media as well."
For information on having I'm Write create words that work for you, contact the company at nerissa(at)imwrite(dot)ca or visit http://www.imwrite.ca/services/creative-writing/.
About the Author:
I'm Write creates articles, blogs, creative writing, SEO work, and more for clients all over the world. Contact I'm Write when you need words that work.