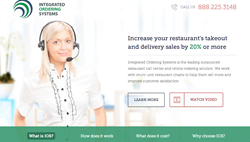 "Our services consistently generate increases in off-premises order revenue of 25% or more for our customers."-Joshua Stephens Founder and CEO
Draper, UT (PRWEB) February 01, 2014
Integrated Ordering Systems ("IOS"), which offers a third-party call center solution for leading restaurants to manage and optimize their takeout, delivery and catering orders, announced today the availability of a new website featuring a comprehensive array of information about restaurant call centers and online ordering services. This newly designed website offers quick and easy access to essential information and tools that provide a more comprehensive understanding of the company's innovative call center services.
"We are excited about our new website launch and the robust information it provides for customers, partners and media to better understand Integrated Ordering System's best-in-class restaurant call center solutions," said Joshua Stephens, Founder and CEO. "We believe that this new site will allow our visitors to have a very informative experience as we continue to grow and increase our market presence."
"Our services consistently generate increases in off-premises order revenue of 25% or more for our customers. By subscribing to our free email series about the basics of restaurant call centers or using our new online ROI calculator, visitors to our website will now be able to determine for themselves the value that IOS can create for their organizations," added Mr. Stephens.
Integrated Ordering Systems' new website will be updated on a regular basis with news of business activity, corporate milestones, and events. Visitors are encouraged to explore the website and sign up for direct emails from the company at http://www.integratedordering.com.
About Integrated Ordering Systems
Founded in 2009 and based in Salt Lake City, Utah, Integrated Ordering Systems is a pioneer in the restaurant call center industry. IOS has grown to offer a suite of services including outsourced phone order handling, online ordering, and comprehensive reporting for some of the leading restaurant brands in the country.