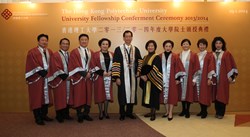 In the course of our advancement, we are most grateful to the unwavering support of our friends and partners from different sectors of the community.
(PRWEB) February 01, 2014
Presided over by Ms Marjorie Yang Mun-tak, Chairman of the University Council, the conferment ceremony was held at the Jockey Club Auditorium on the PolyU campus. The recipients were warmly greeted by PolyU President, Professor Timothy W. Tong and other senior staff members of the University.
The list of distinguished recipients comprises entrepreneurs, philanthropists, senior executives from various sectors and former council members of the University. They are (in alphabetical order of last names):
Miss Clarea Au Suet-ming
Miss Clarea Au, founder of CL Group (Holdings) Limited and Chairman of CAAL Capital Limited, has been actively involved in philanthropic activities. Together with Yan Oi Tong, she founded The Hong Kong Polytechnic University Yan Oi Tong Au Suet Ming Child Development Centre for Giftedness. A member of the PolyU Fund-raising Committee, she offered a generous donation to set up Clarea Au Endowed Professorship in Energy. She also regularly shares her experience with PolyU students.
Mrs Nina Lam Lee Yuen-bing, MH
Mrs Nina Lam, Executive Director of Frankie Dominion (Holdings) Ltd, is a corporate administration and public relations veteran with over 20 years of experience. Ever since her appointment as Fund-raising Committee Deputy Chairman of PolyU's Council in 2010, Mrs Lam has rendered tremendous support to the University's fundraising events, making significant contributions to the development of PolyU.
Mr Peter Sun Kwok-wah, MH
A prominent industrialist, Mr Peter Sun is Chairman and Executive Director of Kingdom Holdings Limited. Committed to supporting innovation and knowledge transfer, Mr Sun collaborated with PolyU to develop mycar, an electric vehicle which successfully tapped into international markets. Mr Sun received the Bauhinia Cup Outstanding Entrepreneur Award from PolyU in 2002, in recognition of his contributions to the society and the industry.
Dr Jimmy Tang Kui-ming, MH
Dr Jimmy Tang, founding Chairman and CEO of Prince Jewellery and Watch Company, has staunchly supported academic development. He serves as member of the Fund-raising Committee of PolyU Council and has zealously supported various PolyU fund-raising events. In 2013, Dr Tang made a generous donation to establish the 'Dr Tang Kui-ming Scholarship' in support of PolyU's student exchange programmes.
Dr Loretta Yam Yin-chun, BBS
Dr Loretta Yam is former Cluster Chief Executive of the Hospital Authority's Hong Kong East Cluster and Hospital Chief Executive of Pamela Youde Nethersole Eastern Hospital. Throughout her career, Dr Yam has made valuable contributions to health services. From 2007 to 2012, Dr Yam was a member of the PolyU Council and its Finance Committee. She was also a member of the Taskforce for Review of the University's Vision and Mission in 2011.
Ms Belinda Yeung Bik-yiu
Ms Belinda Yeung is Executive Director and Chief Operating Officer of Regal Hotels International Holdings Limited, as well as Chairwoman of the Industry Advisory Committee of PolyU's School of Hotel and Tourism Management. Ms Yeung is supportive to PolyU's activities and has shared her experience with PolyU students on many occasions, including "Professor for A Day" sessions and the SHTM Dean's Distinguished Lecture.
Mr Johnny Yeung Chi-hung
Mr Johnny Yeung, founding Chairman and CEO of Fujikon Industrial Holdings Limited, has contributed significantly to the development of the electronics and acoustics industry. Mr Yeung has been playing an active role in helping the University establish collaborations with the commercial and industrial sectors and fostering knowledge transfer. He was the second and third President of the CEO Club of the PolyU Institute for Entrepreneurship. He has been serving on the PolyU Fund-raising Committee since 2010, and has ardently supported fund-raising events and the development of the University.
Mrs Betty Yuen So Siu-mai
Mrs Betty Yuen is Vice Chairman of CLP Power Hong Kong Limited and Chairman of CLP Nuclear Investment Company. Serving on PolyU's Council from 2007 to 2013, Mrs Yuen has staunchly supported the development of the University. She has also participated in PolyU's various committees, including the Executive Committee and the 2012/13 – 2017/18 Strategic Planning Committee.
Since its introduction in 2000, PolyU has conferred University Fellowship on a total of 75 distinguished personalities.