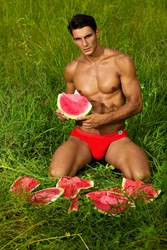 This is a collection with a fabulous heritage and a great future.
(PRWEB UK) 30 January 2014
The debut of Modus Vivendi on Deadgoodundies.com - one of the world's biggest specialist retailers of underwear for men - has kicked off a promising year for the online store.
Founder Adam Davies says: "The time was right for us to introduce Modus Vivendi on Deadgoodundies. This is a collection with a fabulous heritage and a great future. It's about more than fashion, it's not just boxer shorts and briefs, it's a way of dressing, a level of comfort, a special style."
Created by Greek fashion designer Christos Bibitsos, the brand was first launched in 1989 and today its groundbreaking designs encompass men's underwear, swimwear, beachwear, homewear and sportswear.
As the name suggests - Modus Vivendi means 'way of life' - this brand is about more than fashion.
Adam explains why DGU opted to stock the collection: "The look is unmistakeable, very individual. The colours and fabrics are gorgeous and the team in Greece set very high standards for production and quality. The result is designs that appeal to a wide range of customers. Some will prefer the purity of the basics, their swimmers are guaranteed to make an impact on the beach, and Christos Bibitsos' quirkier styles are really intriguing. We know Deadgoodundies' customers will love them all."
Designer Christos Bibitsos commented on the launch today: "We at Modus Vivendi are very excited about the inclusion of our brand at Deadgoodundies. Adam and Jane are excellent people to work with and we are looking forward to many years of fruitful collaboration. Deadgoodundies.com was a natural choice, given their energy and expertise and our increasing fan base in the UK. We hope their customers enjoy our designs!"
The arrival of Modus Vivendi is just the first of many exciting developments planned at DGU during 2014. Adam and his business partner Jane Garner have their eye on another new supplier or two of men's underpants and there are longer term plans for expansion.
Company Information
Deadgoodundies is an online only retailer stocking the best in designer men's underwear and swimwear from all over the world including: (in alphabetical order) Big Boys, Body Art, Bruno Banani, Bum-Chums, Clever Moda, Doreanse, Ergowear, Gregg Homme, HOM, Jockey, Joe Snyder, MANstore, Modus Vivendi, Mundo Unico, Olaf Benz, Pikante, Roberto Lucca, Sloggi and Wild Milk. DGU stocks everything from thongs and strings to briefs, hipsters, boxers and shorts as well as selected loungewear, socks, nightwear, T-shirts and more from their bestselling brands.
DGU are incredibly media friendly and always have high res images for fashion pages and samples for photo shoots as well as expert comment and market insight from partners Adam Davies and Jane Garner.
For more information contact DGU PRs Jane or Charlotte on 01743 271615 (international +44 1743 271615) or email pr(at)deadgoodundies(dot)com.