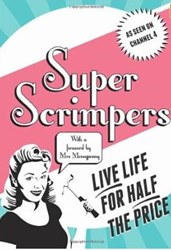 Superscrimpers.com is created by Endemol UK in partnership with Channel 4
London, UK (PRWEB UK) 5 February 2014
Since its launch on Channel 4 in 2011, Superscrimpers has been providing viewers with tips to survive the slump and save the pennies and the pounds. Now fans can access the reliable resources provided on the TV show any time they like on Superscrimpers.com.
Based on the Channel 4 series, Superscrimpers.com, which launched in December last year, is a practical website packed with smart ideas to save money in these tough financial times. A pool of experts writing for the site present useful solutions to everyday economic woes, including tips from super-scrimping supremo Mrs Moneypenny and product comparisons from top consumer journalist Harry Wallop.
The aim of Superscrimpers.com is for readers to find the fun in personal finance and seek out small, easy ways to take control of the purse strings. The website covers a whole host of topics including food, fashion and beauty, gifts and crafts, homes, gardens, lifestyle and travel. From ideas for taking a holiday that won't break the bank to savvy shopping tips using voucher codes and cashback deals, there's something for anyone looking to spend less in their lives.
All over the country, families are feeling the squeeze and a brand new vouchers page will give their scrimping an added boost. With money-off deals from top brands – think fashion, supermarkets, sports, craft, entertainment and travel – all brought together in one simple-to-find, easy-to-access spot and updated weekly, frugal families will be able to find the deals and discounts that suit their lifestyle.
The website can be found at http://www.superscrimpers.com, on twitter @SuperScrimpers and facebook.com./superscrimpers.
ABOUT ENDEMOL UK
Endemol UK is one of the largest independent production companies in Britain and incorporates a number of operations including Darlow Smithson (DSP), Initial, Remarkable Television, Tiger Aspect, Tigress and Zeppotron. The company's credits include:
Prime time entertainment: Big Brother (Channel 5); The Million Pound Drop (Channel 4) and coming soon - Prize Island (ITV1)
Drama series: Ripper Street (BBC One); Black Mirror (Channel 4); The Crash (BBC Three), Peaky Blinders (BBC Two) and The Mill (Channel 4)
Comedy: Benidorm (ITV1); Bad Education (BBC Three); 8 Out of Ten Cats (Channel 4); Would I Lie to You? (BBC One)
Popular game shows: Pointless (BBC One); Deal or No Deal (Channel 4)
Factual entertainment: Supersize vs. Superskinny (Channel 4), SuperScrimpers (Channel 4); Secret Eaters (Channel 4); Snog Marry Avoid? (BBC Three)
Factual series: Richard III: The King in The Car Park (Channel 4); Frankenstein: Building the Bionic Human (Channel 4); Hawking (Channel 4; PBS); Nature Shock (Channel 5); Stephen Hawking's Universe (Discovery)
Kids' programming: Tinga Tinga Tales (CBeebies); Jedward's Big Adventure (CBBC)
Endemol UK is a market leader in digital media and multiplatform entertainment and also incorporates Endemol Games - a dedicated unit specialising in online gaming.
Endemol UK is part of Endemol - a global leader in entertainment that comprises an international network of around 90 companies in over 30 countries.