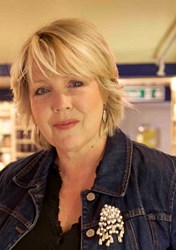 The Easyspace start-up blog gives great insights into how you can get your business idea off the ground.
Glasgow (PRWEB UK) 30 January 2014
Josephine Fairley, the founder of Green & Black's, has written a blog for leading domain name registrar and web hosting company Easyspace, explaining how she launched what has become the world's leading organic chocolate brand.
Jo explains how she launched the company with £20,000 of her own savings and how her big break came when a director of Sainsbury's happened to taste her new chocolate at a party. Today Green & Black's is a global brand worth approaching £100million.
Jo tells Easyspace's regular business blog how she used her skills as a former journalist to build the brand. "I networked the chocolate to anyone I thought might be interested in it," she writes. "We gave away literally tons of chocolate. One square was equal to a thousand words."
Josephine Fairley is the latest entrepreneur to share their experiences of launching a new business with readers of the Easyspace blog for UK start-ups. Previously Justine Roberts, founder of Mumsnet, revealed how she had to accost new mums on the street and ask them to review pushchairs in the early days of her now hugely successful social network for parents, while Fraser Doherty, the young founder of SuperJam, told how he had to hand out samples in supermarkets to get his 100% fruit jam brand started.
Other contributors to the Easyspace start-up blog have included former model turned businesswoman Caprice and Tom Cohn, the founder of onesie company Kigu. You can read all the interviews here: http://www.easyspace.com/startup-entrepreneur-blog.
Sarah Haran, managing director of Easyspace, said: "Any would-be entrepreneurs should take time to read the stories of the people who've already been there and succeeded. They offer some great insights into how you can get your business idea off the ground."
Easyspace provides web hosting and domain names to start-ups and small to medium businesses across the UK. It is part of iomart Group plc, one of Europe's leading cloud companies.