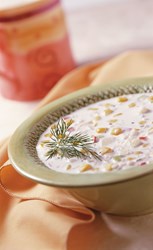 "Since we have 34 varieties of soup mixes from which to choose, you can stock up on everyone's favorite healthy comfort food soups to chase away winter's chill and fill the house with the fragrance that tells everyone something good is cooking."
Waukegan, Ill. (PRWEB) February 01, 2014
Frontier Soups™, a producer of all natural gourmet soup mixes, is adding a new Comfort Soup Four Pack with healthy and easy comfort food favorites. The Four Pack of soup mixes is specially priced during February.
Frontier Soups' new Comfort Soup Four Pack combines favorite cold-weather healthy comfort foods including corn chowder, Italian wedding soup, chicken noodle soup, and savory chicken stew, said Trisha Anderson, company founder. The four pack is being offered at an introductory price of $19.50 in February, a 25 percent discount, Anderson said.
Frontier Soups also is including with each order, at no additional charge, a new brochure with nutritional information titled "The Lean of the Bean," which outlines the many benefits of adding beans as part of a healthy diet. Frontier Soups Facebook followers received an early release of the brochure in January.
Included in the Comfort Soup Four Pack are:

the top-selling Illinois Prairie Corn Chowder, a rich and creamy soup, which can be served as a vegetarian soup or dressed up with added shrimp or chicken,
a classic Little Italy Wedding Soup, filled with tiny Italian sausage meatballs and pastina in a comforting clear chicken broth made even more nutritious with the addition of escarole or spinach,
Connecticut Cottage Chicken Noodle Soup filled with vegetables, including carrots, celery, corn, peas, leeks and shallots as well as shredded or cubed chicken. Corn flour noodles help make this soup gluten free, and
Colorado Campfire Chicken Stew with the thick and rich, comforting taste of chicken potpie filling.
"Since we have 34 varieties of soup mixes from which to choose, you can stock up on everyone's favorite healthy comfort food soups to chase away winter's chill and fill the house with the fragrance that tells everyone something good is cooking," Anderson said. "We also have 28 certified gluten free soups and 11 vegetarian soups so it's easy to accommodate special dietary needs." Best selling soups include those with the bold flavors of Mexican foods like tortilla soup, and the ultimate healthy comfort food, chicken noodle soup, as well as others like French onion soup, white bean chili, and Cincinnati chili.
All Frontier Soups varieties are all natural with no added salt, preservatives or MSG. The soup mixes provide a shortcut to homemade and can satisfy appetites from hearty to light. More information about the company's products, is available online at FrontierSoups.com, facebook.com/pages/Frontier-Soups/79282421800 and twitter.com/FrontierSoups, or by calling 1-800-300-7687.
About Frontier Soups:
Frontier Soups™ has offered aspiring and accomplished home cooks a shortcut to healthy, homemade meals with 34 soups, stews, chili and chowders inspired by the finest traditions in American regional cuisine since 1986. The gourmet soup mixes, including 28 gluten-free soup varieties, are available in such outlets as A Southern Season, Whole Foods, Central Market, The Fresh Market, Safeway, Great Harvest Bread Company and Omaha Steak stores, through national and Canadian distribution and online at http://www.FrontierSoups.com. Frontier Soups is certified as a woman-owned business by the Women's Business Enterprise National Council. The company is located at 895 Northpoint Blvd., Waukegan, IL 60085. More information is available online, by calling 1-800-300-7687 or by connecting on Facebook, facebook.com/pages/Frontier-Soups/79282421800 and Twitter, twitter.com/FrontierSoups.