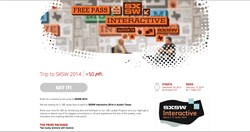 Only Sixteen Days Left to Join the .ME Loyalty Program for a Chance to Win a Trip to South by Southwest Interactive
Podgorica, Montenegro (PRWEB) January 30, 2014
On February 15, 2014, two lucky participants of the .ME Loyalty Program will be awarded the Grand Prize – a trip to South by Southwest Interactive, which will be held in Austin, TX on March 7-11, 2014. The winners will be selected by random drawing; however, the more loyalty points they earn, the better chance of winning they have. In addition to covering the accommodation and SXSW Interactive badge costs, the Grand Prize also includes a $500 AMEX gift card for travel and entertainment.
The .ME Loyalty Program was launched on January 4, 2014 at NMX in Las Vegas with the aim of strengthening ties between the community of bloggers and startups that use .ME domain names. The program also seeks to raise awareness about the .ME extension among those looking to personalize their online presence. The entire concept is extremely user-friendly and everybody can sign up and earn points by performing fun actions such as inviting friends to join, or by using the #domainme hashtag on Twitter and Instagram. As soon as the participants collect enough points, they can redeem free subscriptions to services offered by .ME startups, .ME domain names and hosting, or .ME paraphernalia including T-shirts, mugs or travel kits. Most importantly, each point earned gets them closer to the SXSW adventure sponsored by the .ME Registry.
"There is no Internet extension that makes a bolder personal statement than .ME. Whether it is used for a blog, family email, or an online business, .ME domains transform the website address into appealing personal message," says Predrag Lesic, CEO of the .ME Registry. "This is exactly why we're awarding people who express their individuality online with a trip to South by Southwest Interactive, a conference where they can mingle with the brightest minds in emerging technology and digital creativity."
For more information about the .ME Loyalty Program, follow our social media channels and keep an eye out for announcements at FB.ME/domainME, as well as on the #domainME hashtag.
To learn more about the .ME Registry, developing a .ME business idea and many clever uses of the .ME domain or to simply find out how to register a .ME domain name, go to http://www.Domain.ME.
About the .ME Registry:
.ME Registry (the d.b.a. of doMEn, d.o.o.) was chosen by the government of Montenegro to operate the new .ME domain name extension. .ME Registry partners include ME-net, GoDaddy and Afilias Limited. Me-Net is a Montenegrin registrar and its founders are leaders of the ICT sector in Montenegro, who among other things participated in a successful privatization of Montenegrin largest ISP. GoDaddy is the largest worldwide mass-market hosting provider by annual revenue according to Tier1 Research (Mass-Market Hosting Report-Winter 2011) and is the world's No. 1 domain name registrar. Afilias Limited is headquartered in Ireland and is a leading registry services provider, supporting more than 15 million domains worldwide.