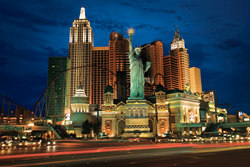 "We are excited to see which teams rise to the top during the judging process..." - Amy Primeau, Competition Organizer
Middletown, OH (PRWEB) February 14, 2014
The entries were first scrutinized to meet the basic criteria of functionality and professionalism as the students were instructed to submit plans as if they were handing over a proposal to a prospective client. From this initial group of plans, 6 teams were selected to present their plan via web conference in front of the IARFC Board of Directors the day before their Annual Board Meeting on March 6th. Three finalists are then chosen for a live presentation in Las Vegas.
"Our goal of the plan competition is an educational one," says IARFC Chairman and CEO Ed Morrow. "Students need to understand how to present to a real client, in the real world with a real case scenario and data. Completing this process simulates a valuable real world experience."
The Universities that have participated this year are: University of North Texas (Denton, TX), Bowling Green State University (Bowling Green, OH), Shepherd University (Shepherdstown, WV), University of Incarnate Word (San Antonio, TX), Bryant University (Smithfield, RI) and University of Georgia (Athens, GA). A number of the professors have included writing a financial plan and submitting it to the competition as part of their curriculum.
"It is evident from the plans that have arrived that the students participating in the 2014 National Financial Plan Competition put a great deal of work into this project," says competition organizer Amy Primeau. "We are excited to see which teams rise to the top during the judging process."
Announcements of the winners of the semi-finalist round will be forthcoming the week of March 10th. Teams will be notified and sent information regarding arrangements for the trip to Las Vegas. These teams of finalists will be judged on May 1 by an audience of professional financial service individuals and the new National Champion announced.
Experienced professional practitioners are the judges for the finals on May 1. For more information for serving as a judge at the plan competition in Las Vegas, visit http://www.iarfc.org or contact Amy Primeau at 800 532 9060.