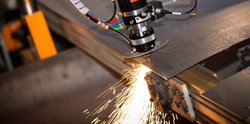 Having our LaserCoil development line and Precision Strip's LaserCoil production line running under 'one roof' provides Precision Strip with 24/7 support from us while exposing our team to real-world challenges.
Perrysburg, Ohio (PRWEB) January 31, 2014
LaserCoil Technologies LLC, a new corporation that offers metal fabricating solutions featuring advanced and patented technologies for laser cutting of blanks from coil, has announced the establishment of its technical center in Perrysburg, Ohio. This 12,000 sq. ft. facility will house a coil-fed LaserCoil blanking system, capable of handling 30-ton coils, and serve as the technical development center for the company. Starting in March 2014, the LaserCoil system will be available to run prototype parts, low volume production and test part runs.
LaserCoil Technologies' facility is co-located on the property of toll processor Precision Strip as part of its 100,000 sq. ft. expansion of the already existing 300,000 sq. ft. facility. This enables LaserCoil to provide line-side support for this customer's recent equipment order, and ongoing development within a manufacturing environment.
While the LaserCoil system that goes online in March is dedicated primarily for development and prototype, the second line ordered by Precision Strip will be operational the second half of 2014. The combined capacity for production and development between these two lines will benefit the industry at large as a proving ground for high-speed, coil-fed laser blanking.
"Having our development line and Precision Strip's production LaserCoil line running under 'one roof' provides Precision Strip with a production line that has 24/7 support from our team while also exposing our development team to real-world challenges," said LaserCoil Technologies President Kim Beck. "This approach results in making the process more viable for the entire marketplace."
LaserCoil Technologies laser blanking machines deliver part-ready components for stacking at the end of the line as scrap is automatically shed during the cutting process. LaserCoil systems can process a wide variety of coil material in aluminum, mild steel, the new high-strength steels, and other materials for surface sensitive panels as well as structural components in thicknesses from 0.5 to 3.5mm and up to 2m wide coil at any length.
In addition to the new Perrysburg location, LaserCoil Technologies has rights of us to over 130,000 sq. ft. of manufacturing space at other facilities in Napoleon, Ohio that house additional design, engineering, equipment manufacturing and service capabilities.
Editor Notes:
About LaserCoil Technologies: LaserCoil Technologies LLC provides metal fabricating systems and solutions featuring advanced and patented technologies for laser cutting of blanks, based upon over five years of research and successful production runs since 2012. These systems were developed by Automatic Feed Company, a known innovator in pressroom automation with nearly 65-years manufacturing expertise focused mostly on blanking and cut-to-length lines. This depth of experience provides LaserCoil the right qualifications to deliver effective and unique press feeding technology to the market, while being supported by a financially stable organization. Visit http://www.lasercoil.com.
About Precision Strip: Precision Strip was founded in 1977 in Minster, Ohio. Over the past 37 years it has grown to 11 locations throughout Ohio, Indiana, Kentucky, Tennessee and Alabama offering a diverse range of toll processing services including slitting, cut-to-length, shape blanking, oscillate slitting, and inspection. Each plant is strategically located to provide JIT delivery to the automotive, appliance, industrial products, and beverage can industries. For more information, visit http://www.precision-strip.com.