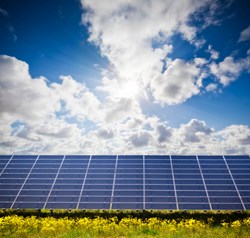 Developing and Constructing Larger Solar Farms makes more sense for everyone involved stated John Green of ISS.
Asheville, NC (PRWEB) January 30, 2014
Large Solar Farms like the newly developed 50MW ground mount solar farm project Innovative Solar 34, LLC offer a lower cost per watt which yield better returns. In order to make solar farm projects pencil out and thus give the owners and investors of these projects the high single to low double digit returns they desire many things are taken into consideration. Keeping the project soft costs as well as hard costs to minimum levels is essential in this business. Innovative Solar Systems is a leading solar farm development company here in the United States that has made the strategic choice to primarily develop mainly larger solar farm projects, those projects above 25MW, to keep installed costs down.
Please take a look at Innovative Solar 34, LLC. This is a 50MW solar farm project located in Richmond county North Carolina. All approvals including land leases and zoning are in place and a signed PPA with Interconnection Agreement will be obtained within 30-60 days from Duke Energy. The team at ISS has been able to put together a turn key package on this project at approximately $1.35/watt installed which is almost unheard of in this industry. Incentives in the state are just one reason investors in North Carolina projects make such handsome returns, with 30% Federal Tax Credits. 35% NC Tax Credits, Accelerated Depreciation and even an additional $5MILL Credit from the state on this project once it is certified as an "Eco Industrial Park." It is easy to see why so many investors and buyers choose North Carolina for solar farm projects.
Innovative Solar Systems is a leader in the development of large scale solar farm projects in the United States and the companies new decision to primarily only develop larger scale projects makes sense with almost 1 Gigawatt of projects in various stages of approvals with Duke Energy. The portfolio of solar farm projects available from ISS in 2014 range in size from 2MW all the way up to 80MW. Having "Shovel Ready" solar farm projects and working one on one with investors is what Innovative Solar Systems does stated John Green, the companies Senior Development Engineer and Managing Partner. For more information on Innovative Solar 34, LLC, the latest 50MW solar farm project being built in North Carolina please call (828)-215-9064.