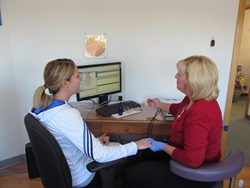 What is exciting about this expansion of the EVA Screening, is that it offers the ability to truly offer a comprehensive whole body approach to greater health.
Orland Park, IL (PRWEB) January 30, 2014
A person's overall health consists of both physical and emotional wellness. With this in mind, Vital Health Inc. has expanded its EVA Screening capabilities to include a special program that targets emotional wellness. During the screening, Dr. Griffin can detect nutritional deficiencies and food sensitivities which can also be compounding a person's emotional functioning.
Barbara Griffin, NMD, CNC, Certified Gluten Practitioner, and owner of Vital Health, Inc., "What is exciting about this expansion of the EVA Screening, is that it offers the ability to truly offer a comprehensive whole body approach to greater health."
"So many dynamics play a role in a person's underlying emotional and physical health. What the medical community is beginning to embrace is that a person's neurological health is tied to both emotional and physical well-being. The EVA Screening, with the addition of the Emotional Stress Integration widens the health picture I can illustrate for the client," Dr. Griffin shared.
Gluten Related Neurological Symptoms
Research has shown that people with celiac disease suffer from much higher than average rate of depression and anxiety. Attention deficit hyperactivity disorder is another frequent finding for both children and adults who have celiac disease or gluten sensitivity. Studies have shown that once on a gluten-free diet, school performance and overall attention dramatically improves. (1) Migraines are commonly mentioned as a symptom for both celiac and gluten sensitivity. The EVA Screening specifically tests for sensitivity to wheat and gluten. Not only can it identify gluten intolerance, but also it can show how much stress gluten impacts on the body. There is no question that celiac disease and gluten sensitivity can lead to a wide array of neurological problems. However, in most cases, following a strict gluten-free diet can reduce and even resolve symptoms.
Nutritional Deficiencies Play A Role In Neurological Conditions
Common nutritional deficiencies found in people who have celiac disease and gluten intolerance are Methyl B12, zinc and Vitamin D. During the EVA Screening, Dr. Griffin has the ability to check for a wide array of nutritional deficiencies. Additionally, she can determine how much and what type of supplement would best help the body return to its healthiest state.
What the Emotional Stress Integration Illustrates
The Emotional Stress Integration is a separate component to the EVA Screening. It is a valuable tool in exploring what specific emotional stresses are impacting the body, as well as key areas that define a person's emotional make-up. From the knowledge gained during the assessment, in addition to avoiding food allergens, and introducing specific supplements, Dr. Griffin may suggest individualized Bach Flower Remedies. Based on a person's current emotional needs, specific Bach Flower Remedies or other Flower Remedies are selected that will respond to their needs. Dr. Griffin explained, "According to these ancient remedies individual flowers have specific healing attributes. While Bach Flower Remedies are effective in some individuals, they should never take the place of medication prescribed by a medical doctor nor is the Emotional Stress Integration screening a diagnostic tool in defining a neurologic condition."
About Vital Health, Inc.:
At Vital Health, Inc. Dr. Griffin integrates a whole body approach with the intention of facilitating wellbeing and optimal health amongst her clients. Dr. Griffin's specialties include: traditional naturopathy, nutrition, EAV Meridian Stress Assessment, Food Sensitivity Screening, Environmental Screenings, Iridology, SKASYS, Live Blood Cell Analysis as well as established integrative therapies such as Neuroemotional Therapy, Neuromodulation Technique, Cold Laser and clinician for Spectracell Laboratories, Inc. Vital Health, Inc. 9031 W. 151st Street, Suite 210, Orland Park, IL 60462, (708) 226-1131, http://www.vitalhealth.org.
Source:
(1) http://www.celiacdisease.about.com