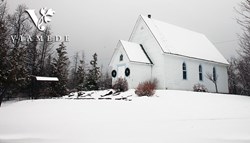 Our ultimate goal is to make Viamede one of the best resorts in Ontario and provide a vacation experience that is second to none.
Kawartha Lakes, Ontario (PRWEB) January 31, 2014
An ambitious restoration and improvement project is underway this winter at Viamede Resort (http://www.viamede.com), a classic full service resort on Stoney Lake in the Kawartha Lakes tourist region; located approximately 90 minutes northeast of Toronto. The extensive renovation program at Viamede includes substantial improvements to the suites and guest rooms, cottages and public areas of the resort. The work will refresh and revitalization the century–old historic resort hotel and improve guests' overall resort experience. The plan is to retain Viamede's old-world charm, but bringing the resort into the twenty-first century.
Viamede Resort is closed for the winter while this latest round of renovations takes place. Last fall, work began with major renovations to all the cottages and guest rooms. New carpeting or quality laminate flooring was installed. Extensive bathroom renovations included the installation of high-end Mirolin showers with rainforest shower heads or luxurious air tubs. Every cottage and guest room will be furnished with new solid wood furniture hand-made by College Woodwork in Oshawa. In the Hilltop units, the gas fireplaces have been replaced. The reconfiguration of some guestrooms will create adjoining king and twin-double bed rooms that will be ideal for families on vacation. New steel roofs; locally made by Havelock Metals, will replace existent roofing to give the resort a more uniform look and better complement the traditional style of its buildings. In the public rooms of the resort, new carpet has been installed and the dining room has received a thorough make-over. Other improvements include the addition of new docks at the onsite marina, new electronic door locks, and much more. All of the renovations will be completed by the time Viamede reopens this spring in May, 2014.
Viamede owner and innkeeper Ben Sämann is very excited about the renovation project. "Since taking over Viamede three years ago, we have been continually working to make significant improvements. Viamede is very historic; with multiple buildings spread over 165 acres of property. The resort dates back to 1885, and some of our buildings are still original. The scope of the work involved has been challenging, but I'm very pleased with what we have achieved in such a short time. Last spring we were honoured to be named as one of Ontario's Finest Hotels, Inns and Spas. We also received a Certification of Excellence Award from TripAdvisor. Our ultimate goal is to make Viamede one of the best resorts in Ontario and provide a vacation experience that is second to none," says Sämann.
About Viamede Resort: A member of Ontario's Finest Hotels, Inns and Spas, Viamede Resort is a historic full-service hotel and conference centre with over 50 private rooms and cottages on the shores of beautiful Stoney Lake. Located in the Kawarthas, just thirty minutes outside of Peterborough, this landmark resort hotel boasts three restaurants, a full-service spa, convention facilities, wedding chapel, and 165 acres of pristine wilderness. To learn more about Viamede Resort's many fabulous vacation packages and accommodation specials, visit (http://www.viamede.com) or call toll free 1-800-641-1946.
Contact Information:
Ben Sämann
595 Mount Julian Viamede Road
Woodview ON K0L 3E0
http://www.viamede.com
705-654-3344