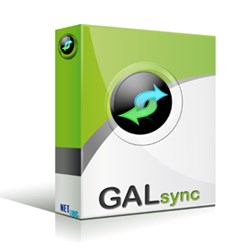 Dueren, Germany (PRWEB) February 11, 2014
Leading Microsoft Exchange Server resource site, MSExchange.org, announced today that NETsec GALsync was selected as the winner in the Migration category of the MSExchange.org Readers' Choice Awards.
GALsync allows the synchronization of email address lists and objects in Exchange and Active Directory environments. A cost-effective solution for sharing Exchange mail-enabled objects between forests, GALsync lets consumers choose the objects they need within multiple domains. The product does not require domain trusts and can be installed within an hour. With free busy sync, managed code, and secure data transmission, GALsync helps to reduce errors while saving valuable time, money, and resources. GALsync supports Exchange 2003, 2007, 2010 and 2013.
"Our Readers' Choice Awards give visitors to our site the opportunity to vote for the products they view as the very best in their respective category," said Sean Buttigieg, MSExchange.org manager. "MSExchange.org users are specialists in their field who encounter various solutions for Exchange Server at the workplace. Their vote serves as a solid peer-to-peer recommendation of the winning product."
MSExchange.org conducts regular polls to discover which product is preferred by Exchange administrators in a particular category of third party solutions for Microsoft Exchange Server. The awards draw a huge response per category and are based entirely on the visitors' votes. MSExchange.org users can submit their votes for the current Readers' Award poll in the site's left-hand bar.
About MSExchange.org
MSExchange.org (http://www.msexchange.org) is a Microsoft Exchange Server 2010/2007/2003 resource site. It is the leading Exchange site, attracting over 800,000 Exchange administrators and specialists a month. The site provides the latest Microsoft Exchange Server news, articles and tutorials by leading Exchange experts, message boards, software listings and product reviews.
About NETsec
NETsec is a Certified Microsoft Gold Partner focused on helping organizations implement the latest Microsoft technologies and building software tools that simplify the job of IT administrators. Our innovative and award winning software tools will help to increase your company benefits. Learn more at http://www.netsec.de