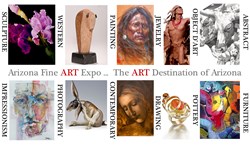 Sottsdale, AZ (PRWEB) January 30, 2014
It is the Mission of the Arizona Fine Art EXPO to bring the art culture to the local community. The EXPO provides a forum for artists who want to exhibit and sell their art, while working in an art studio environment, providing art lovers the opportunity to have a direct connection to artists, and the vast exhibited selection of art mediums and genres.
The EXPO connects, inspires, educates and enhances the experience and appreciation of fine art, with the 7th Annual Book Signing Event, an integral part of the ten week schedule, patrons can meet with published artists and purchase a signed copy of their book. This year's books include;
 
Jeanne Bonine
Inspirations of Timeless Beauty
Meet Jeanne Bonine. "larger-than-life" soft, lush floral works are magnificent. The works make for a 'must' coffee table book to share with art lovers.
 
Sandi Ciaramitaro
Cook with Love & Paint with Passion
Meet Sandi Ciaramitaro. Her love of fine art & fine food are now in a book! It sold out in it's first week of publication. She has since re-stocked and is ready for the weekend's signing. Available in hard and soft cover.
 
Bob Coonts
Inside Out, the Art of Bob Coonts.
Meet Bob Coonts. Combining a sense of warmth, graceful movements and detail give release to a style bordering on abstract but reflecting a true image.
Jason Napier
The Art of Jason Napier
Jason's limited edition (only 500 copies) book is a stunning portfolio. A 96 page 9x12, encased in a hardbound slate grey shadow box jacket.  Each book bearing a 3x6 de-bossed custom Napier patina plate, Invisible spine title and Book fabric color available in 4 color options; Slate Grey, Hickory Brown, Mahogany Red and Gunny Sak White.
A prize collector's piece.
Kazu Okutomi
DE- A- I.( Japanese for encounter)
Meet Kazu Okutomi. A Japanese artist who has been in Arizona for the past seven years. His book is the collection of seven years of stunning photographic work, the title DE-A-I reflects the importance of Japanese culture and his own deeply personal experience with the world around him.
 
Arizona Fine Art EXPO
WHERE: 26540 N. Scottsdale Road – located at the southwest corner of Scottsdale & Jomax next to MacDonalds
Just 5 miles south of Carefree & 5 miles north of Loop 101 on Scottsdale Road.
WHEN: February Feb 1 & 2, Saturday & Sunday
10am to 6pm each day
FOR INFORMATION PLEASE CALL: 480-837-7163
http://www.ArizonaFineArtEXPO.com