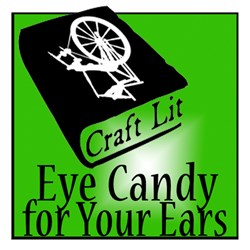 ...I'm in love. The books, the commentary on the books, the crafting, and the life stories are absolutely delightful. It's a joy to have this download every week, and the days feel long in between each episode.
McLean, VA (PRWEB) February 03, 2014
The CraftLit podcast—now about to begin its ninth year in production—has amassed a podcast library of 15 full-length classic audiobooks in an episodic format—the way many of the books were meant to be read. "I wanted to have a way to talk about and enjoy books the way I did in the classroom while I was home with my second son," Heather Ordover, the host, said. "It was a way to keep my mind active and help other people who spent a lot of time at home in similar circumstances."
And help them she did, "I think the first emails I got were from knitters and crocheters thanking me for the Audiobooks with Benefits format," Ordover said. "And those emails were followed quickly by first-time mothers who thanked me for keeping them sane while they were up all night with the baby. It's been a win-win for everyone."
The Audiobooks with Benefits format that CraftLit pioneered is simple: Ordover shares crafting information (patterns, websites, techniques, interviews) then gets to what she calls, "the Book Talk." She explains: "old books, classic books, really aren't that hard to understand if you have the proper context. Our problem isn't that the language in these books is *hard*, its that our language has *changed*." Fill in those blanks, and you have a fun and painless way to get your weekly dose of classic literature.
"Some people think these books are dry or boring, but I found when teaching high school in New York that very modern students could fall in love with very old books if the context was presented well. 'The Scarlet Letter' isn't much more than a telenovela in a Puritan costume."
Ordover's fans seem to agree, "I only just recently found CraftLit, but I'm in love." Meghan said. "The books, the commentary on the books, the crafting, and the life stories are absolutely delightful. It's ... a joy to have this download every week, and the days ... feel long in between each episode. [It's] a treat to listen to!"
This week fans have even more to be happy about. "We're beginning a new book on Friday—Elizabeth Gaskell's 'North and South'." Not to be confused with John Jake's Civil War novel. With this cause for celebration, Ordover is hosting a series of raffle giveaways from the CraftLit website. Every day this week something new will be raffled off to a listener. "The easiest way to keep track is to be on the mailing list, but there will be announcements on Twitter and Facebook and on the CraftLit site as well.
She was excited about the hoopla because this book is shaping up to be one of Ordover's favorites. "Gaskell's heroine is very modern and strong," she says. "I think that's been one of the biggest surprises for all of us—how very current some of these older books feel." "North and South" features labor unrest, regional differences in the mid-1800s, and prejudices between "masters and hands" in the Industrialized sections of England. Another surprise favorite a couple of years ago was Wilkie Collins' "The Woman in White" which has horrifying bad guys and heroines who climb onto dark balconies in the rain, looking more ninja than ingenue. "One of the things I've gotten used to hearing is, 'I hated this book in high school, but I love it now,' which is sad but understandable. I think a lot of books are put in front of kids with too little context when the kids don't know enough history or have enough 'life' under their belt."
At least there's something like CraftLit waiting for them when they're ready.
# # #
Crafting-a-Life, Inc., its imprint Crafting-a-Life Books, and podcast CraftLit specialize in media and Audiobooks-With-Benefits™—treating literature and history with a light touch and serious enthusiasm. The Shoppe now features books ("Grounded: the Seven" and the "What Would Madame Defarge Knit?" series), a variety of individual knitting patterns and pattern eBooks, as well as Audiobooks-with-Benefits™ ranging from "A Tale of Two Cities" to "Alice in Wonderland".