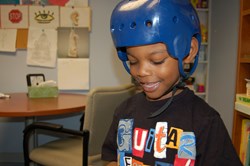 Every 45 minutes, or less than the length of a Sesame Street episode, a child visits the ER because of a TV tipping over.
Mountainside, NJ (PRWEB) January 30, 2014
The New Jersey Department of Health found that TV and furniture tip-overs claimed the lives of 4 children, sent over 1,600 children to the emergency room and hospitalized 10 more in New Jersey last year.
Kendell Baker, from East Orange, NJ, was one of those kids and suffered a traumatic brain injury after a TV on a dresser fell on top of him. Immediately after the TV fell Kendell became unconscious. He was in a coma that lasted 4 weeks. Kendell suffered from multiple skull fractures. After a month of inpatient rehabilitation at PSE&G Children's Specialized Hospital in New Brunswick, Kendell became an outpatient in the outpatient brain injury program at Mountainside and in 6 months he was able to walk and talk again.
"I am grateful to still have my son and for all the great staff at Children's Specialized Hospital working to help him get better," says Kendell's mom, Stephanie Isons. Read Kendell's full story: http://tinyurl.com/cpd84w5.
Children's Specialized Hospital Safe Kids Union County advises you to check your home. Use safety straps, available in home improvement stores and online, to secure furniture and TV's. These tragic deaths and injuries are 100 percent preventable.
Safe Kids Worldwide revealed that every three weeks, a child dies from a television tipping over and nearly 13,000 more children are injured each year in the U.S. This represents a 31 percent increase in TV tip-over related injuries over the last ten years.
The results of "A Report to the Nation on Home Safety: The Dangers of TV Tip-Overs," include data from the Consumer Product Safety Commission (CPSC) and findings from Safe Kids Worldwide primary research. According to the CPSC, from 2000-2010, on average, a child dies every three weeks.
"Every 45 minutes, or less than the length of a Sesame Street episode, a child visits the ER because of a TV tipping over," said Sue Driscoll, Community Educator and Coordinator of Safe Kids Union County at Children's Specialized Hospital. "In New Jersey in 2012, there were 1,660 children seen in the emergency room and 4 fatalities due to TV and furniture tip-overs."
Many TV tip-overs are a result of unsteady TVs that are not secured to the wall. Flat screen TVs that are top-heavy with narrow bases can be easily pulled off an entertainment center or table. Large and heavy old-style cathode ray tube (CRT) TVs placed on dressers or high furniture can also tip over if children climb the drawers to reach a remote control, a piece of candy, a video game or anything else that attracts their attention.
The report also revealed that three out of four parents don't secure their TV to the wall. Most families are unaware that securing a TV is an important safety measure. Others decide not to mount their TVs because of concerns about damaging the wall or installing the TV incorrectly.
"You wouldn't think to bring a baby home from the hospital without a car seat or have your child ride a bike without a helmet," said Christopher Haines, MD, chief medical officer, Children's Specialized Hospital. "Similarly, securing your TV will go a long way in protecting your family."
Children's Specialized Hospital Safe Kids Union County and community partners are launching a national effort to prevent injuries from TV and furniture tip-overs and educate communities by calling on families to conduct a quick TV safety check, which includes the following steps:

Check Your TV. Assess the stability of the TVs in your home. Remember, a curious, determined child can topple a TV. Children playing with friends or pets could knock a TV over, while other kids might be tempted to climb up to reach items placed on or near a TV, such as remote controls or candy.
Secure Your TV. Securing your TV to the wall is a safe solution. Much like child proofing with a toddler gate or electrical socket cover, TV mounts and furniture straps are necessary precautions for keeping your family safe.
About Safe Kids
Safe Kids works to prevent unintentional childhood injury, the number one cause of death for children in the United States. Children's Specialized Hospital Safe Kids Union County is a member of Safe Kids Worldwide, a global network of organizations dedicated to preventing unintentional injury. For more information, visit http://www.safekids.org or contact Sue Driscoll at sdriscoll(at)childrens-specialized(dot)org.
About Children's Specialized Hospital
Children's Specialized Hospital, the largest pediatric rehabilitation hospital in the country, treats children affected by brain injury, spinal cord injury, premature birth, autism, developmental delays, and life-changing illnesses at twelve sites throughout New Jersey. Services include outpatient therapies, physician specialty services, acute rehabilitation, medical day care and long-term care through its sites in Bayonne, Clifton, Egg Harbor Township, Mountainside, Toms River, Fanwood, Hamilton, New Brunswick, Newark and Roselle Park as well as outreach programs in many communities. Children's Specialized Hospital is an affiliate member of the Robert Wood Johnson Health System and a proud member of the Children's Miracle Network Hospitals. Children's Specialized Hospital Foundation supports the programs and services of the hospital. The Foundation is ranked among the top six pediatric hospital foundations in the country. To help, or find more information: call 888-CHILDRENS; visit http://www.childrens-specialized.org; Facebook: http://www.facebook.com/childrensspecialized; Twitter: http://www.twitter.com/childrensspecnj; YouTube: http://www.youtube.com/cshnj; LinkedIn: http://www.linkedin.com/company/children's-specialized-hospital.