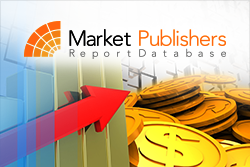 London, UK (PRWEB) January 30, 2014
Until 2010, the touch panel market was open to numerous middle-size companies in China, Korea, Taiwan and Japan. Most manufacturers were producing small quantities of touch panels in every design possible depending on customers' needs. In early 2010, the overall touch panel market growth considerably picked up the pace. Robust growth was spurred by the negative trend in the LCD market as well as the increasing demand for over 10-inch products with touch panels, like monitors, AIO PCs and notebook PCs. Therefore, the touch panel standardization was on an upward trend.
The world touch panel market is anticipated to see strong growth between 2014 and 2017. The flat display industry will likely see the increase in the number of film type touch panel sensors integrated in flat panels due to the lower price of film type if compared to glass type touch sensor panels. The smartphones is the largest end-use sector of touch panel sensors, thus, such market giants as Apple and Samsung Electronics are forecast to concentrate on diversifying of their tablet offerings ranges.
New research report "Touch Panel Trend & Core Touch Technology Analysis" worked out by SNE Research has been recently published by Market Publishers Ltd.
Report Details:
Title: Touch Panel Trend & Core Touch Technology Analysis
Published: January, 2014
Pages: 131
Price: US$ 4,500.00
http://marketpublishers.com/report/it-technology/hardware/touch-panel-trend-core-touch-technology-analysis.html
The report provides a close look at the global touch panel industry, offers accurate information on the technology (including its characteristics, structure, production process, patents, etc.), evaluates the current status of the industry and presents a whole set of accurate information on the industry performance both historical and present. The topical research study contains an extensive summary of the existing touch panel technology types, and also provides a comparative analysis on some of these. The report discusses the most important issues and the prevailing market trends in detail and, moreover, outlines the prospects of the future market development, and also offers forecasts of the industry performance through 2017.
Report Scope:

In-depth analysis of the historical and present performance of the touch panel market.
Summary of the major market trends.
Detailed profile of touch panel technology, including information on its types, structure, operational principle, main characteristics, etc.
Comparative analysis of touch sensor panels (in-cell, on-cell and hybrid in-cell).
Review of the touch panel patents.
Comprehensive examination of the market segments by product type.
Detailed discussion of the major trends and burning issues related to the world touch panel industry.
Future outlook for the global touch panel market, including forecasts of the technology development up to 2017.
More new research reports by the publisher can be found at SNE Research page.