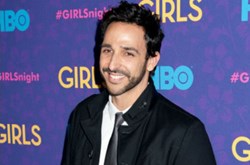 Honestly, it [his 'Blacklist' role] was really timely, and organic, and fortunate, and there was just good energy around that moment, and I'm extremely, extremely grateful.
(PRWEB) January 30, 2014
Not only is Amir Arison known for playing computer genius Aram on NBC's 'The Blacklist,' but he'll also be making a name for himself on HBO's 'Girls,' alongside Lena Dunham. TVRage.com's News Editor, Allyson Koerner, recently chatted with Arison about his roles, what's ahead for the actor, and why Dunham is an inspiration.
Here's an excerpt from the interview:
"TVRage: In addition to 'The Blacklist,' you're also starring in this season of 'Girls.' So far it's been revealed that your character is a co-worker of Hannah's, but what can you tell us about your character?
Arison: Well, the character is probably the opposite of Aram. He looks similar. He looks like me and has a beard (laughs), and he dresses pretty well. That's about as much as they share. Maybe he funny's too? I hope. Maybe that's similar. My character's name is Kevin on 'Girls.' So, Hannah gets a new job, and at the new job she has a new boss and new co-workers. As you might have with your co-workers, there might be a guy she might be sort of flirting with, or there might be a new girlfriend, and, of course, there always has to be an office enemy, a frenemy, if you will. So, I am one of those three. All the scenes we did at work were so fun. It's like taking Hannah completely out of her environment and putting her into a professional, corporate environment. It's good for the comedy. She [Dunham] was so funny and so cool. I can't speak highly enough about working with Lena Dunham.
TVRage: What is it like working with Lena Dunham?
Arison: She is everything you would expect and more. She's just like Hannah, except absolutely self-confident, and focused, and generous. She's as quirky and funny and as intelligent as Hannah is, plus… [She's] the youngest role model I've ever encountered."
'The Blacklist' airs Mondays at 10/9c on NBC, and Arison debuts on 'Girls' Sunday, Feb. 9 on HBO.