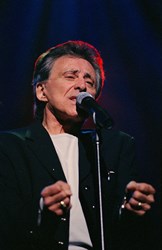 New Brunswick, NJ (PRWEB) January 30, 2014
State Theatre presents Frankie Valli & The Four Seasons for the State Theatre's 25th Anniversary Benefit Gala on Saturday, May 17, 2014. Tickets go on sale to the general public on Friday, January 31, 2014 at 10am. Concert tickets range from $55-$250. Benefit Gala tickets are $650. For Benefit Gala tickets please call 732-247-7200, ext. 543.
"We are thrilled to have New Jersey's own, Frankie Valli, one of America's treasured artists, return to the State Theatre for this very special Anniversary Benefit Gala," said Mark W. Jones, State Theatre President & CEO.
The Gala festivities begin at 5pm at The Heldrich Hotel and the performance will begin at 6pm. In addition to the concert, Gala guests will enjoy a reception, dinner with reserved seating, open bar, dancing, and live entertainment. The Benefit Gala, the State Theatre's biggest annual event, underwrites the State Theatre's artistically acclaimed programming and nationally recognized education programs. A portion of each ticket price represents a tax-deductible contribution to the State Theatre.
The State Theatre Benefit Gala Corporate Honoree is Boraie Development. Boraie Development is a family-owned business located in New Brunswick that focuses on urban real estate development, property management and real estate marketing statewide. Both the business and the individual family members have been contributors to the State Theatre for many years. In 2005, Boraie Development donated the funds to create a Donor Lounge that the theater uses to host high-level donors and corporate guests.
This year's Leadership in the Arts awards will be presented to The Blanche and Irving Laurie Foundation and the J. Seward Johnson, Sr. 1963 Charitable Trust. The Blanche and Irving Laurie Foundation supports a variety of projects, largely based in the area of classical programming. The Foundation is the single greatest contributor to the State Theatre's Symphony Series, which has flourished because of the Foundation's support.
The J. Seward Johnson, Sr. 1963 Charitable Trust is a foundation that has supported many special initiatives at the State Theatre. Much of their funding has helped keep the theater up-to-date with the ever changing technologies of our world.
In addition, a special award for this anniversary year, the Silver Anniversary Honoree, will be presented to Johnson & Johnson for their unwavering support of the arts community and New Brunswick. Johnson & Johnson played a major role in the theater's re-opening as a performing arts center in 1988, and has remained a loyal supporter each and every year.
The 25th Anniversary Gala Co-Chairs are Doug and Diane Garback of Prudential–The Garback Agency with support from Vice-Chairs Scott Fergang of RBC Wealth Management and Richard T. McDonald of Johnson & Johnson.
About the Gala Artist
A true American legend, Frankie Valli's incredible career with The Four Seasons, as well as his solo success, has spawned countless hit singles including "Sherry," "Walk Like A Man," "Big Girls Don't Cry," "Rag Doll," "December '63 – Oh What A Night," and "Can't Take My Eyes Off of You." Frankie Valli & The Four Seasons have sold over 100 million records worldwide.
Valli's long-lasting career has led to the overwhelming success of the Broadway musical JERSEY BOYS, which chronicles Frankie Valli & The Four Seasons incredible career and features all of their greatest hits. The JERSEY BOYS juggernaut has now been seen by over 18 million people worldwide and has won four Tony® Awards including Best Musical (2006).
In 2014, Frankie Valli's life story will once again be featured. This time in the film adaptation of JERSEY BOYS, directed by Academy Award-winning director Clint Eastwood.
For tickets or more information, call the State Theatre ticket office at 732-246-SHOW (7469), or visit us online at http://www.StateTheatreNJ.org. The State Theatre ticket office, located at 15 Livingston Ave, New Brunswick NJ, is open Monday, Tuesday, Thursday, Friday, 10 a.m. to 6 p.m.; Wednesday 11 a.m. to 7 p.m.; Saturday, 1 p.m. to 5 p.m.; and at least three hours prior to curtain on performance dates, unless otherwise specified. For information on group outings and discounts, call 732-247-7200, ext. 517. Some additional ticket and transaction fees may apply.
State Theatre, a premier nonprofit venue for the performing arts and entertainment. The theater exists to enrich people's lives, contribute to a vital urban environment, and build future audiences by presenting the finest performing artists and entertainers and fostering lifetime appreciation for the performing arts through education. The State Theatre's programs are made possible, in part, by funding from the New Jersey State Council on the Arts/Department of State, a Partner Agency of the National Endowment for the Arts, and contributions from numerous corporations, foundations, and individuals. The Heldrich is the official hotel of the State Theatre. Magic 98.3 is the official radio station of the State Theatre. The Star-Ledger is the official newspaper of the State Theatre. United is the official airline of the State Theatre.
STATE THEATRE
15 Livingston Ave
New Brunswick, NJ 08901
Ticket Office - 732-246-SHOW (7469)
Online - http://www.StateTheatreNJ.org
PHOTOS AND INTERVIEWS FURNISHED UPON REQUEST
Please contact Kelly Blithe at
732-247-7200, ext. 542 or by email at kblithe(at)StateTheatreNJ(dot)org.
Up-to-the-minute information on events and State Theatre news,
online at http://www.StateTheatreNJ.org.