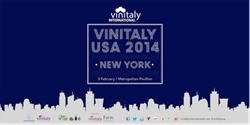 The new generation of wine drinkers doesn't buy wine the same way as their parent generation.
New York, NY (PRWEB) January 31, 2014
It is no secret that social media is becoming increasingly important for wineries; at this week's ninth annual presentation of the Wine Market Council, President John Gillespie reported that one third of all high-frequency wine drinkers regularly discuss wine on Facebook, and that two thirds of high-end wine buyers do. And as Vinitaly International, the worldwide ambassador of Italian wine, prepares for its annual trade show in New York on Monday, February 3, another social media platform is making headlines in the US; this week the Wall Street Journal announced that WeChat, a fast-growing smartphone messaging app from China, has set its sights on the US market.
Despite the enormous opportunity of consumer reach at low costs, old-world wineries are often slow to develop a social media strategy – because they tend to be more traditional, relatively small in size with limited resources, and restricted by language and lack of market knowledge. One possible model for successful social media engagement is to harness the marketing savvy of an outside promotional agency – part of the service that Vinitaly International offers to the dozens of Italian producers coming along with them to New York next week.
The advantages of social media for wineries are linked to changes in the way that consumers shop for wine. "The new generation of wine drinkers doesn't buy wine the same way as their parent generation," explains Michaela Rodeno, founder of Women for WineSense in Napa Valley. "Instead of seeking opinions from professionals like Robert Parker or Wine Spectator, they tend to rely on friends or retailers for suggestions."
Rather than looking for the highest number of points, crucial markets like Millennials, women and restaurant buyers are interested in the story behind the wine. According to Alfonso Cevola, wine blogger and importer, "People go to wineries' social media sites to access a more complete and personal story – with video, posts, podcasts – and to get a feel for the energy and the passion of any particular wine or winery. As a consumer, I use social media sites to see how they spin their story, but also to find who is talking about them, which restaurants, chefs, and sommeliers are excited about them, and how my peers feel about them."
"Beyond its use in reaching consumers, social media is crucial for a winery to reach members of the wine trade, where adoption rates of social media are exceptionally high," explains John Gillespie.
There are a number of US wineries who have won market gains and public recognition for their use of social media channels – wineries like Jordan in Sonoma, CA, with over 16,000 Twitter followers and the award for Best Winery Blog in 2012, or Oregon-based Pacific Rim. As Dr. Liz Thach, MW and Daniela Kolb explain in a recent piece for WineBusiness.com, Pacific Rim invested heavily in social media to educate Millennials about Riesling, with an active website and Facebook campaign resulting in a 15% increase in revenue and a 73% increase in transactions.
Foreign wineries, however, face myriad boundaries to engaging with consumers via social media. According to Alfonso Cevola, "The biggest challenges are language and cultural differences, even in the same country. The Northeast of the US is not the same as Texas, any more than Sicily is like Milan. So drilling the message down to the essential, simple, truthful, no-spin, message, is probably the best advice I could give." These challenges can be daunting to a small foreign winery, which may have no dedicated marketing team, no knowledge of the US market, and perhaps no English speaking staff.
This is why Stevie Kim, Managing Director of Vinitaly International, has made social media a primary focus of her wine promotional strategy. Vinitaly International maintains a Facebook page, Twitter account, YouTube channel, and Instagram and Flickr accounts. Its Facebook page, for example, features profiles of producers exhibiting at Vinitaly International events, and posts news in English, Italian, Russian and Chinese. It also recently launched a revamped website with links to all media, news and statistics, and a planned educational section about Italian wine varietals. Vinitaly International's dedicated media team operates both in the offices in Verona as well as onsite on international tour; when they set up shop at the Metropolitan Pavilion in New York on Monday, they will be releasing a steady stream of news, photos, and video, feeding real time information to journalists around the world and giving small Italian wineries the resources of a dedicated, multi-lingual media team - something they could never access on their own.
With all those tools at her fingertips, Stevie is most passionate about WeChat - as Dr. Liz Thach reports, already the second most popular app in China and now running a promotional campaign linked to users' Google accounts. Vinitaly International was the first company to open an account with WeChat, and Stevie sees uptake growing outside of China: "If I had to choose one social media tool, it would be WeChat," she reports. "Not Facebook, Twitter, or YouTube. The reason is that it's the only social media platform that embraces both the eastern and the western world. I've been spreading the word to all my wine producers to use this tool – all of my work chats are already on the WeChat platform."
Vinitaly International's New York event will open with a session presenting the progress of another online pilot project, Vinitaly International Importer Connect (VIIC), a 360 degree B2B matchmaking tool to help Italian producers find importers and distributors around the world, 9:30am, February 3 at the Metropolitan Pavilion.
About:
Veronafiere is the leading organizer of trade shows in Italy including Vinitaly (http://www.vinitaly.com), the largest wine event in the world. The 47th edition of Vinitaly counted some 148,000 visitors (+6%), of which 53.000 were international attendees (+10%) visiting from 120 countries. On 95.000 square meters, 4.200 exhibitors welcomed trade professionals, media and producers alike. The next installment of the fair will take place on 6th- 9th April 2014. The premier event to Vinitaly, OperaWine (http://www.OperaWine.it) "Finest Italian Wines: 100 Great Producers", will unite international wine professionals on April 5th 2014 in the heart of Verona. Veronafiere also created Vinitaly International in 1998 to develop a global platform for the promotion of companies in the Italian wine and food sectors.