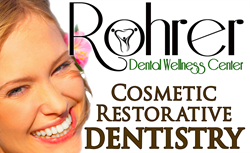 Putting patients first is one of the key tenets of our philosophy, and this award lets us know we stand head and shoulders above the crowd when it comes to customer service in dentistry.
Delray Beach, FL (PRWEB) January 31, 2014
"Only about 5 percent of the companies Rohrer Cosmetic Restorative Dentistry competes with in the Palm Beach County area are able to earn our Super Service Award," said Angie's List Founder Angie Hicks. "It's a mark of consistently great customer service."
Angie's List Super Service Award 2013 winners have met strict eligibility requirements, which include an "A" rating in overall grade, recent grade, and review period grade; the company must be in good standing with Angie's List, have a fully complete profile, pass a background check and abide by Angie's List operational guidelines.
Service company ratings are updated daily on Angie's List. Companies are graded on an A through F scale in areas ranging from price to professionalism to punctuality. Members can find the 2013 Super Service Award logo next to company names in search results on AngiesList.com.
Angie's List helps consumers have happy transactions with local service professionals in more than 720 categories of service, ranging from home improvement to healthcare. More than 2 million paid households use Angie's List to gain access to local ratings, exclusive discounts, the Angie's List Magazine and the Angie's List complaint resolution service.
About Rohrer Cosmetic Restorative Dentistry
Rohrer Cosmetic and Restorative Dentistry in Delray Beach, Florida, practices with the most up to date technology in a very clean and soothing environment to help you and your family preserve, repair, and care for every aspect of that precious smile. Aging, missing, worn, chipped or misaligned teeth can be completely rejuvenated, giving you the confidence to smile on every occasion.
We put patients first. Whether you need a simple tooth filling or a full mouth reconstruction, we ensure the highest level of dental care. We are determined to building long lasting relationships with our patients, ensuring they get the best dental care. We are completely committed to the ideals of Holistic Dentistry. We are similar to a dental spa. We strongly believe that the combination of traditional dental methods, with an eastern approach to dental care will provide the Best of Both Worlds. Our Holistic Approach offers patients the use of only the finest materials and biocompatible products available. We avoid at all cost the usage of toxins and/or undesirable elements into your body. We are proud to offer mercury free products. We feel this approach is the safest and most aesthetically pleasing way to maintain and restore your oral health.
Come see how you can personally benefit from these advanced cosmetic and restorative techniques. We proudly serve patients from all over the United States, Canada and South Florida, including the areas around Boynton Beach, Delray Beach and Boca Raton in Palm Beach County, Florida. Call our office today (561-404-7905) or visit our website (http://www.DrsRohrer.com) to find out more about our cosmetic and holistic dentistry services.