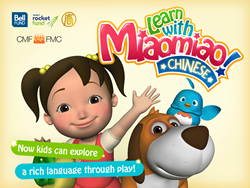 The app is very hands on and visually appealing; the children learn without noticing.
Toronto (PRWEB) January 30, 2014
With a glowing review airing today on the History Channel and Biography Channel's Newswatch App Watch, the makers of Learn With Miaomiao: Chinese have announced a much-anticipated update to their app, which is available exclusively on the iPad and teaches preschoolers to read and write Chinese.
Normally available for $2.99, the app will be made free for the Chinese New Year Holiday, which runs from January 31 to February 14.
After launching in November 2013, the multimedia property has turned heads with its unique, pictorial approach to learning. News of the Miaomiao television series airing online at Kidobi.com was the top story recently on kidscreen, a leading kids media industry publication, and reviewers of all types have raved about the app's positive impact on children's entertainment.
"Chinese characters can be very complex, but this educational app does a wonderful job of introducing and teaching kids (and this adult) how to recognize and pronounce 30 Chinese characters. The app is very kid friendly and the interactive elements encourage young students to practice more. I can't wait for the writing section to be introduced in a future update," said the reviewer at iHeartThisApp.com.
The thousands of people who've played the game since its launch in December have all had the same desire. After enjoying the section on exploring Chinese characters, they've wanted to learn how to write. Writing Chinese can be a daunting task, but the animators and programmers at Mark Animation saw this challenge as a great premise for a game.
"The open interface of the Explore section in the app is wonderful to give young kids a bilingual learning experience, and we've found that our pictorial approach greatly increases memory retention," says Leo Yu He, the game's producer. "What this writing section does is create more of a game element with challenges and rewards. There is still no scoring or levels because we don't want it to be competitive, but we think this game format really cracks the code for young kids."
For each word, a cute critter guides kids as they trace the characters on the screen. Miaomiao and her pet dog Doudou are there too, making sure everyone is having fun. The game guides players through the correct stroke order of each character, and upon completion, Miaomiao or Doudou comes out to congratulate them.
"Miaomiao is really neat and intriguing," Jane Pang, Principal at Clearview School of Arts and Culture in Toronto which runs a Chinese after-school program. "From my experience with kids, they will love it and find it fun. The app is very hands on and visually appealing; the children learn without noticing. Chinese is a very abstract language but this app makes it easy to learn and can bring the characters very close to the children."
The app has an innovative feature that builds on the pictorial origin of many Chinese characters. In the Explore section of the game, children tap on the words to see them come to life into animated objects that look much like the words they represent. In the writing section, each word is taught in an environment related to its meaning, for instance, 水 (shui) (which means water) is presented in an underwater scene.
Studies have shown that learning Chinese develops unique cognitive skills and enhances musical ability in children because of its tonal sounds, and that language-learning in general can help children's ability to learn across all subjects. "This is an app for everyone, not just students of Chinese. All kids can enjoy it, and the benefits are so broad that all parents should have an interest in it," concludes Leo Yu He.
Miaomiao was created by Apex Media Corp. with the support of Canada Media Fund, Bell Broadcast and New Media Fund, and Shaw Rocket Fund. It is distributed by Mark Animation in partnership with New Tang Dynasty Television.
Contact Jared Pearman at 613-325-6274 and jared(at)markanimation(dot)com for more information and promotional codes to download the app. Further details available at http://www.learnwithmiaomiao.com.