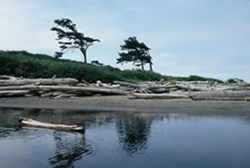 I'd go back there in a Nano-second. Hiking under giant trees, on wild Pacific beaches, in meadows rimmed with snow; I had no idea Olympic would be that spectacular. -- past tour participant
Seattle, WA (PRWEB) January 31, 2014
Naturalist Journeys' selection of Washington's Olympic Peninsula to launch a new birding tour was no accident. Few places in the country offer such diverse habitats, ranging from those with influence of water: freshwater wetlands, coastal estuaries, beaches and rugged, wave-swept islands to those of mountains: glacial carved river valleys, lush conifer forests, rushing streams. Naturalist Journeys' Seattle-based expert birding guide, Woody Wheeler, cites the area's dramatic variation of habitat as a prime factor in the company's decision. Having a rich mix of biodiversity in close geographic proximity allows birding tour participants to experience great variety without long days of driving. Wheeler says, "In one single day, we may begin at the coast sorting out migrating shorebirds, and end up atop the world at Hurricane Ridge, looking for Sooty Grouse and endemic Olympic Marmots; not sure we'll make it to the top in early May due to snow." He emphasizes that the region's iconic temperate rainforests can actually make for challenging birding, calling on the skills of a guide.
Naturalist Journeys owner and veteran guide, Peg Abbott, has a strong affinity to the Olympic Peninsula. In her early work with ecotourism, Abbott directed National Audubon Society's Ecology Workshops. At the time the Spotted Owl controversy was at its peak, and the Society launched educational programs for its members to better understand the issues. She says, "Forks, Washington was a timber town in trouble with a dwindling supply of large diameter ancient trees left for harvest. None of us could ever envision it would become a celebrity town of the Twilight Vampire series fame a few decades down the road!" Abbott hiked miles of Olympic trails and networked with local experts on salmon, geology, forestry, and marine life as she put together Audubon's general natural history tour. With the start of Naturalist Journeys in 1998, she's featured the Olympic Peninsula as a hiking trip. This spring, timed for peak bird migration as well as the blooming of many coastal shrubs, Abbott hopes to showcase the peninsula's avian diversity, from Bald Eagles to Harlequin Ducks, Chestnut-backed Chickadees, Varied Thrushes, Marbled Murrelets, and perhaps the most iconic, Tufted Puffins.
More about Naturalist Journeys Olympic Peninsula Birding and Nature Tour:
The centerpiece of Naturalist Journeys' May 3-11 Olympic Peninsula Birding and Nature tour is Washington's Olympic National Park. The park protects the Olympic Mountains, including 8,000-foot Mt. Olympus. It provides habitat to 56 species of mammals (including Elk, Columbian Ground Squirrel, and the endemic Olympic Marmot), more than 130 species of birds (including Spotted Owls and Marbled Murrelets), and numerous salamanders and other amphibians. Tour participants explore mountains, ancient temperate rainforests, and alpine meadows. Adjacent Dungeness National Wildlife Refuge with its rugged sand spit jutting out into the Straits of Juan de Fuca, and the nearby Dungeness River Audubon Center provide added top-rated opportunities for birding. A special birding and wildlife boat tour to the San Juan Islands provides opportunity to view several species of whales, featuring Orcas, along with other marine mammals and seabirds up close in the Straits of Juan de Fuca. The tour begins and ends in Seattle. Lodgings are in two historic park lodges at Lake Quinault and Lake Crescent, and in the town of Sequim.
More about Naturalist Journeys:
Naturalist Journeys LLC, a top birding and nature tour company, offers specialty small group tours and travel worldwide, from the western U.S. to Alaska, Hawaii and Florida, Trinidad and Tobago, Costa Rica, Panama, safaris in Africa and more. Naturalist Journey's guided nature and birding tours feature expert guides with decades of experience in birdwatching, travel photography and other forms of eco-tourism. Naturalist Journeys also offers hiking and adventure travel tours in many national parks and wildlife reserves, including the Galapagos, Antarctica and the Amazon.