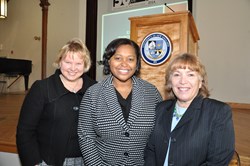 Portland, Maine (PRWEB) January 30, 2014
University of New England's Portland Campus celebrated the 50th anniversary since Martin Luther King's visit to UNE (then St. Francis College, Biddeford) with a keynote address on January 29 by Starla Hairston Blanks on "Health Empowerment Through Community Engagement." Hairston Blanks is the director of Health Promotion and Policy with Morehouse School of Medicine's Community Voices: Health Care for the Underserved. She is also enrolled in UNE's Master of Public Health Certificate program.
Students and faculty of UNE's graduate health professional programs attended the lecture along with Community Health Outreach Workers (CHOW) who work in the City of Portland providing care for the community's underserved populations, including immigrants and refugees.
Hairston Blanks said, "All people have a right to health," adding that people from the same community are treated differently when it comes to access to good care, and that a person's income, education and housing are possible barriers.
She encouraged people to promote health equity through community engagement, culturally competent interventions and community-wide polices, noting that policies including economic, child care and transportation all impact access to care. She said health empowerment can arise by increasing access to items that promote better health such as fresh fruits and vegetable and safe walking trails.
Martin Luther King, Jr. visited St. Francis College now UNE on May 6-7, 1964. For more information on the semester-long series of events celebrating this, visit une.edu.
UNE is an innovative health sciences university grounded in the liberal arts, with two distinctive coastal Maine campuses and unique study abroad opportunities. UNE has internationally recognized scholars in the sciences, health, medicine and humanities, and offers more than 40 undergraduate, graduate and professional degree programs.
###