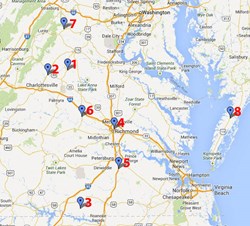 "There is something for every price range, so it's well worth participation by all." says Linda Terry, Partner with Tranzon Fox
Richmond, Virginia (PRWEB) February 03, 2014
The Commonwealth of Virginia will take public bids to liquidate several real estate holdings throughout the state. These consist of former locations for VDOT sites, and vacant parcels of various sizes and permitted uses. The properties are located in the City of Richmond, Goochland, Orange, Albemarle, Accomack County on the Eastern Shore, Prince George, Brunswick, and Washington in Rappahannock County. Seven of the auctions will take place on Tuesday, February 25th, with the VA Eastern Shore property to be auctioned Monday, February 24th.
Commercial Real Estate Brokerage CB Richard Ellis, currently represents the Commonwealth and CBRE has subcontracted Tranzon Fox to market and handle the auctions. The surplus state properties vary in size and use. They include commercial buildings as well as industrial, agricultural and residential land parcels. "We are pleased to be able to assist CBRE. There is something for every price range so it's well worth participation by all." says Linda Terry, Partner with Tranzon Fox.
Auction properties include: 3+/ acres with 6 structures in Orange, office building on an acre in Goochland, 3+/- acres in Disputanta, 7.9+/- acres in Barboursville, 6.7+/- acres in Richmond, 7.6+/- acres with 8 structures in White Plains, 2.9+/- acres with 4 structures in Washington and an office building in Onley. Auction and property details may be found at http://www.tranzon.com.
Interested parties may contact Phillip Elliott, Tranzon Fox at 800-868-0458 or visit http://www.tranzon.com/FX7221 for detailed information.