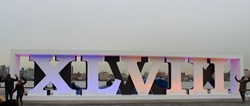 Hoboken, NJ (PRWEB) January 30, 2014
In honor of the NFL Super Bowl XLVIII coming to New Jersey, CarePoint Health sponsored two of the twelve foot Super Bowl Roman Numerals located at Pier A Park in Hoboken. The illuminated sculpture, designed by architect John Nastasi, was unveiled Tuesday afternoon by former New York Giants wide receiver Amani Toomer and former Jets linebacker Bart Scott. The unveiling kicked-off the week-long Hoboken Huddle celebration on the Hoboken Waterfront which features lanes for curling as well as the official Super Bowl XLVII Fan Store, entertainment and local food vendors. The life-sized Roman numerals will be on display through Super Bowl weekend.
About CarePoint Health:
CarePoint Health is bringing quality, patient-focused healthcare to Hudson County. Combining the resources of three area hospitals — Bayonne Medical Center, Christ Hospital in Jersey City, and Hoboken University Medical Center — CarePoint Health is a new approach to delivering healthcare that puts the patient front and center. With a focus on preventive medicine, disease management and healthcare education, CarePoint Health provides patients with 360 degrees of coordinated care, delivered by the area's best and most dedicated doctors, nurses, hospitals and medical staff.
For additional information, please call the public relations department at 201-418-2335.