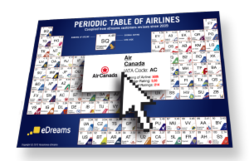 Barcelona (PRWEB UK) 3 February 2014
eDreams, the leading European online travel agency, has published the top 100 airlines of 2013 by way of an interactive Periodic Table. Maintaining its number 1 spot for the second year running is Singapore Airlines, a company flying customers to 60 destinations worldwide. Singapore Airlines is just one of seven Asian airlines to make it into this year's top 10.
The study was conducted from reviews and ratings of eDreams customers who actually travelled with the airlines in 2013. Each ranking was calculated by comparing thousands of customer reviews collected over the past year. The periodic table of airlines, inspired by the periodic table of elements, is an interactive graphic that shows the airlines' ranking position by overall rating, name, logo, country of origin and IATA code.
Much alike last year's results, the Asian airlines have dominated the top positions. Turkish Airlines, Emirates, Bangkok Airways, China Airlines, Korean Air and the top position holder, Singapore Airlines, all feature in the top 10. Ranking scores for the top 10 Asian airlines range from Turkish Airlines' 4.35 out of a possible 5 up to 4.65, held by the customers' airline of choice, Singapore Airlines. The Singaporean carrier has been particularly well received by its customers this year, as it has not only kept its number one spot, but has also climbed 3.5 per cent in the overall rank.
British and Irish airlines also make a strong showing in the ranking of the world's best airlines, with eight total making the top 100. Out of these eight, the airline with the highest overall rating is Ireland's Aer Lingus, coming in 36th with a score of 4.01 and followed closely by Jet2 (number 37) and British Airways (number 41). It is worth mentioning that out of the eight British and Irish airlines on the list, five of them are low cost carriers.
See the full study results here: http://www.edreams.com/best-airlines/.
About eDreams
eDreams is one of the leading online travel agencies in Europe. The company offers its services in the United Kingdom, Spain, Italy, France, Portugal, Germany, Australia, Brazil, Canada, Mexico, Chile, India, Peru, Venezuela, Argentina, Colombia, Switzerland, Turkey, USA, Singapore, UAE, Hong Kong, South Africa, New Zealand, Indonesia, the Philippines, Egypt, Morocco, Thailand, Greece, the Netherlands and the global English speaking market. eDreams has recorded one of the highest growth rates in the European market for online travel. The company offers a wide range of services including flights, hotels, flight + hotel, and other products, which are available for their clients through booking engines that integrate the latest technologies and price searches.