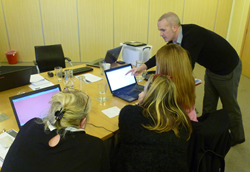 I've worked with quite a lot of software over the last 10 years and I can honestly say JobLogic is the most intuitive and easy to use.
Birmingham, UK (PRWEB UK) 31 January 2014
In the business world, good preparation is key to the success of every organisation. That's why JobLogic have recently announced the expansion of their training team, bolstering their line-up with a new training and development consultant. By adding another highly experienced trainer to their ranks, JobLogic will improve training quality and efficiency.
Purchasing software is a big decision for any company. That's why JobLogic is committed to giving each company that invests the time and effort to implement its service management system a solid foundation in using the software. Training currently takes place at JobLogic's dedicated training facility close to Birmingham airport and with convenient links to the centre of the motorway network.
For 2014, JobLogic has expanded its training team and taken on board a new training consultant. By taking on another consultant, JobLogic has been able to increase its service management software training capacity and service quality. New training consultant Glen Barber, who joined the organisation in December, is happy to be a part of the team and working with the program: "I really enjoy it...I've worked with quite a lot of software over the last 10 years and I can honestly say JobLogic is the most intuitive and easy to use." Combining a new setup that sees Paul Webb become the training manager, and continued improvements to their powerful service management software, JobLogic have shown a great commitment to getting customers off to the best start possible.
One of JobLogic's most recent customers are Alpollo Air, who came to the east Birmingham training centre in November 2013. The training session was customised to their business and explored all of the ways Alpollo wanted to use their job management software along with tips for best practice. Three members of the Alpollo team who would be in charge of administering JobLogic on site were present; a great way to approach training. Sending several members of staff who know your business intimately to training means that there are more perspectives to give your consultant, which ultimately makes the customisation process more accurate. Additionally, the more people that attend training, the easier it will be to remember the topics covered; reducing the need to seek support.
As well as training that focuses directly on the needs of the business and how to get the best out of JobLogic, over the course of 2014, new customers can also expect less waiting time for training and the addition of a new, customised training facility at the Custard Factory.