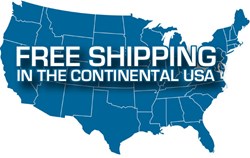 Everyone is offering free shipping these days but it isn't always easy to do for small businesses where shipping can cost you more than the product at times.
Little Rock, AR (PRWEB) January 31, 2014
Companies all across America rolled out free shipping offers during the 2013 holiday season. Though it is common to see these special shipping options at larger companies such as Amazon - with their Super Saver Shipping or membership based Amazon Prime - smaller businesses are being forced to also offer complimentary shipping to stay competitive.
The problem for small businesses is finding a way to absorb these shipping costs. While reduced or gratis shipping can entice new customers it can reduce overall profit, which can be particularly painful to small businesses just rebounding from the recession. Even giants like Amazon aren't immune to this problem, according to Fortune Magazine; Amazon lost $2.4 billion last year in net shipping costs.
FlagandBanner.com's owner Kerry McCoy decided to begin offering a minimum purchase for complimentary shipping this year at her Little Rock, Ark., based company. "Everyone is offering free shipping these days but it isn't always easy to do for small businesses where shipping can cost you more than the product at times. We decided for it to be worthwhile for our company and for our customers, that a $100 minimum purchase would be required. We came up with that number based on average order size. We often sell flags, banners or pennants in large numbers to companies around the world or sell decorating kits to residential customers who wish to have long lasting patriotic bunting for all the summer holidays. Those large purchases make the free shipping worthwhile to our customers."
McCoy went on to say, "This shouldn't deter the person wishing to just spend $20 on a garden banner for their front yard, we have sales during different seasons throughout the year for these residential customers too. Or perhaps they'd like to take advantage of our new shipping offer and order banners for every holiday and season all at once. We carry our complete line on our website year round so if someone is looking to buy a Christmas banner in May or a St. Patrick's Day banner in November customers can find them."
FlagandBanner.com isn't the only business offering a minimum purchase for gratis shipping option, several other companies are doing the same and even Groupon this past holiday season launched its first holiday catalog offering gratis shipping and returns.
Taking advantage of the FlagandBanner.com new shipping option is easy; customers just choose the option via shipping methods in their shopping cart. Customers will need to note that commercial flagpoles are not eligible for reduced shipping due to their length and/or weight.
FlagandBanner.com has been in business since 1975 and have been selling flags, flagpoles, banners, pennants and home and garden décor online nationally since 1995.
For more information about the more than 22,000 products FlagandBanner.com offers, log on to FlagandBanner.com, become a fan on Facebook, or call one of their Flag Experts for answers to any and all questions about flags, banners, pennants and more at 1-800-445-0653.